Digital Finance Analytics is a boutique research, analysis and consulting firm providing advisory services to clients in Australia and beyond. Services are delivered virtually using the web, blogs, social media, online conferencing and other digital means. We also produce corporate education and training videos for some of our clients.
We combine primary consumer research, industry modelling, economic analysis and segmentation analytics to offer insight into the dynamics of the mortgage, lending, savings, payments and superannuation sectors. Using experience derived from more than 25 years of analysis, We are able to pinpoint opportunities created by changing customer needs in the evolving market. A specific focus is the changing channel preferences being exhibited by "Digital Natives" and how products, services and customer experience will need to be tailored to this new environment. We provide custom research and advice to a number of clients, maintains several  industry models, authors various industry reports and collaborates on mortgage, SME and housing sector publications.
Martin North, Digital Finance Analytics founding Principal, data scientist and banking sector analyst is often quoted in the media.  He curates the Digital Finance Analytics Blog which provides commentary on our research programmes as well as covering broader industry issues. Register to get regular updates.
Gill North, joint Principal, is a chartered accountant, a highly experienced global financial analyst, and a legal academic who researches and teaches company, finance and banking law.
Contact us for more information about our services or to arrange a media interview. We have high quality video recording facilities (as well as skype over NBN) and so can create broadcast standard content to meet tight media deadlines, as well as content for our video blogs.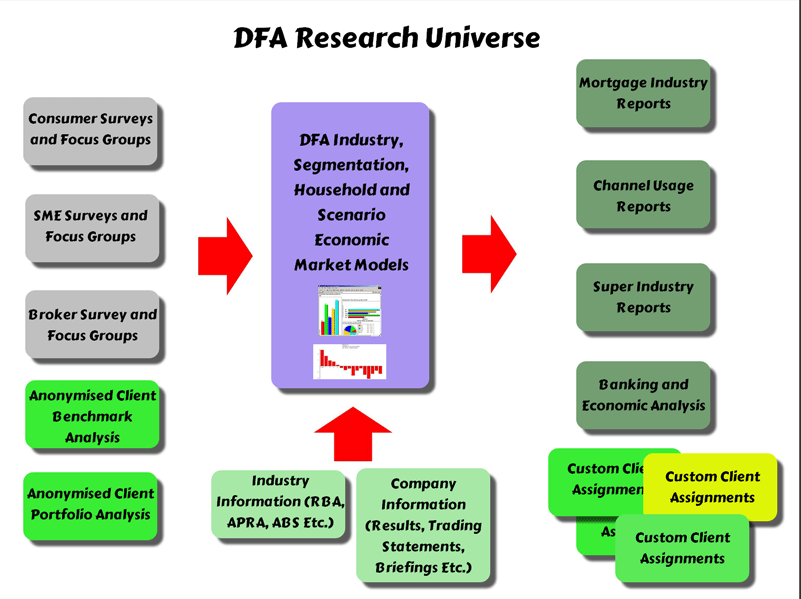 Here is a video blog where we walk through our core market model.
Note the data is for demonstration purposes only.