ANZ customers are receiving emails advising that the bank will turned off paper statements, unless customers click on the link to retain paper distribution. And there is a short cut off date beyond which you need to log into your account to set preferences. Asking to click on a link from an email is in my view inept, in the era of spam or worse, this is not good practice.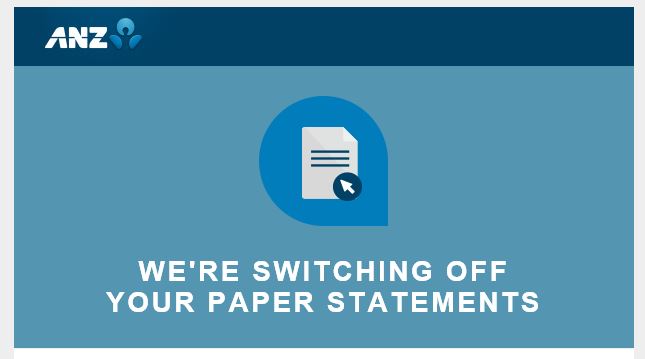 This forced migration may save the bank costs, and for some will be convenient, but for those who need physical statements for audit purposes, this is a problem. In addition, people who are not regularly online (yes there are still many who do not use email regularly, even if they are social media), may miss the change and discover an absence of statements down the line.
We wonder if the ANZ will start to charge for paper production later, we hope not, as this would be a further degradation of service.
It seems to me, the bank should have worded its communication more positively, because this comes across as a high-handed action, without taking customer needs into account. One more example of poor culture.
It is probably true that some would be too lethargic to make the switch to digital statements, without a prod, but this approach from the ANZ will be seen by many as just another example of them not thinking about things from a customer's point of view. It shows that bank has a long way to got to win back customer favour.
A better way would be to incentivise people to switch by sharing some of the cost savings with their customers who elect to go for online statements.