The latest results from the Digital Finance Analytics Small and Medium Business Survey, based on research from 52,000 firms over the past 12 months, is now available on request.   You can use the form below to obtain a free copy of the report.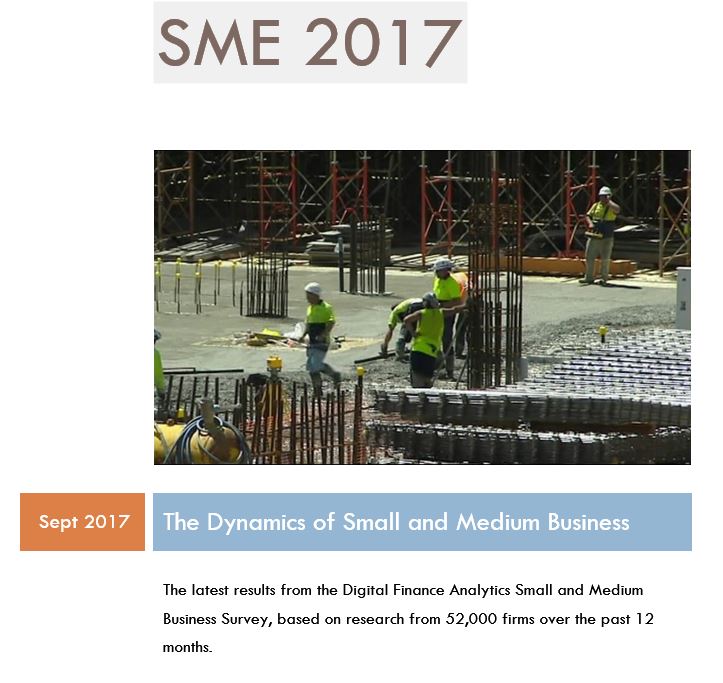 There are around 2.2 million small and medium businesses (SME) operating in Australia, and nearly 5 million Australian households rely on income from them directly or indirectly. So a healthy SME sector is essential for the future growth of the country.
However, the latest edition of our report reveals that more than half of small business owners are not getting the financial assistance they require from lenders in Australia to grow their businesses.
Most SME's are now digitally literate, yet the range of products and services offered to them via online channels remains below their expectations.
More SME's are willing to embrace non-traditional lenders, via Fintech, thanks to greater penetration of digital devices, and more familiarity with these new players. In addition, many firms said they would consider switching banks, but in practice they do not.
Overall business confidence has improved a bit compared with our previous report, but the amount of "red tape" which firms have to navigate is a considerable barrier to growth.
Running a business is not easy. In some industries, more than half of newly formed businesses are likely to fail within three years. We found that banks are not offering the broader advice and assistance which could assist a newer business, so even simple concepts like cash flow management, overtrading and debtor management are not necessarily well understood. There is a significant opportunity for players to step up to assist, and in so doing they could cement and strengthen existing relationships as well as creating new ones.
We think simple "Robo-Advice" could be offered as part of a set of business services.
The sector is complex, and one-size certainly does not fit all. In this edition, we focus in particular on what we call "the voice of the customer". In the body of the report we reveal the core market segmentation which we use for our analysis and we also explore this data at a summary level.
Here is a short video summary of the key findings.
The detailed results from the surveys are made available to our paying clients (details on request), but this report provides an overall summary of some of the main findings. We make only brief reference to our state by state findings, which are also covered in the full survey. Feel free to contact DFA if you require more information, or something specific. Our surveys can be extended to meet specific client needs.
Note this will NOT automatically send you our research updates, for that register here.