A new digital marketplace and small business hub – Proquo – was announced early June, as a start-up joint venture between NAB and Telstra. They are now developing their market presence, and have told DFA that they had 500 users registered prior to launch. Proquo offers small business owners and accounting experts access to a range of services from other providers. Users can create briefs for the work they need, provide quotes, manage payments and publish reviews, all on the one platform. Interestingly, they are not planning to make access to the service available by a dedicated app at launch time (but it is on the road-map for later), but access is via their web presence. Here is their marketing video which explains the concept nicely.
Proquo says micro and small business owners, as well as experts in the accounting industry are invited to register for free to take advantage of this world-class tool to aid networking and help their business thrive. The services offered under the accounting umbrella include: Budgeting, Book keeping, Xero, tax and many more.
Small business bartering is no secret and Proquo's unique swapping feature is an innovative tool for digital marketplaces. Members also have the option to buy, sell or pay the difference should a trade-off not match the cost of a service.
Proquo is free to join and has no subscription fees, and members who sign up by 25 July 2016 will enjoy no transaction fees for the remainder of the year. From 2017 fees of 7.5 per cent to 10 per cent will apply to paid transactions charged to the service provider, the lowest fees of any services marketplace in Australia, they claim. Transaction fees do not apply for straight swaps. When a payment is involved, Proquo holds a 50 per cent deposit in its secure Vault, assuring members their money will only be released when the job is delivered successfully.
When registering, members create their own profile, which includes ABN validation to ensure only Australian businesses can transact, as well as to outline their experience, qualifications and previous work. This and Proquo's rigorous rating and review feature helps fellow members make informed decisions on who to collaborate with.
Proquo says that a dedicated team and robust briefing and quoting process is in place to make sure members have the right person for the job and both parties are on the same page about what's being delivered.
We have confirmed that Proquo will focus on Australian businesses, and there are no limits to the number of transactions, or value of transactions which can be made on the platform.
Co-CEO Carl Spurling said, "Proquo combines transactions and networking, enabling small business owners and accounting experts to connect, share their expertise and grow their customer base via a trusted online hub". We encourage the Australian small business community and especially experts in the accounting industry to register and explore the essential business services available, to help them get ahead with the expertise and customers they need."
Now this is an excellent example of digital disruption in play as we know from our SME surveys, that many are technology capable, as measured by our technographic analysis, and expect more services to be available on mobile devices.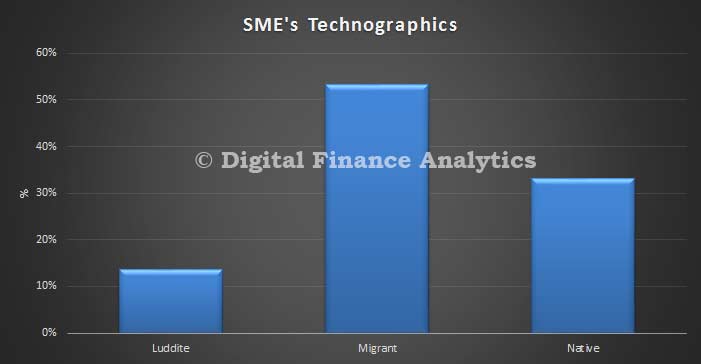 But we also know that 50% are likely to fail, and whilst access to funding is one reason, many fall over because they cannot find a channel to market to find customers easily. So, it looks as if Proquo has the potential to become an excellent catalyst for the SME sector. Though many SME's will find the barter approach quite attractive, it will be interesting to see if the momentum continues to build, once they start charging a fee for cash transactions.
Finally, it is worth remembering that according to the ATO, barter transactions are assessable and deductible for income tax purposes to the same extent as other cash or credit transactions. When an entity that is a member of a trade exchange makes a taxable sale to another member, there is a liability for tax, including GST.