The Treasury announced today a consultation examining whether unfair contract terms are being included in standard form contracts involving small businesses. This is an important issue, because SME's are the life-blood of the economy, and as we highlighted in our recent SME report, many continue to do it tough. In particular, those contracting with large businesses are at a potential disadvantage, resulting in unfair terms and conditions. One particular element we noted from our surveys, is large businesses and government agencies extending terms of settlement, putting SME cash-flows under strain. So we welcome the initiative.
In the consultation paper, the Treasury has included data from the ACCC, highlighting the 894 complaints they received between January 2011 and November 2013, from SME, relating to unfair contract terms.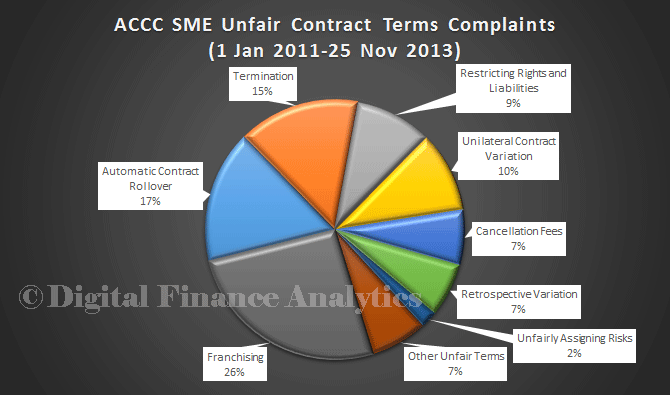 "To save time and resources negotiating contracts, many businesses pre-prepare standard form contracts that are presented to customers on a 'take it or leave it' basis. Standard form contracts promote the smooth functioning of the economy by avoiding the transaction costs associated with negotiated contracts, particularly for transactions that are of low value and repeated with a large number of parties. For various reasons, parties being offered standard form contracts may often not review the terms and conditions closely and may not understand the meaning of particular terms. Furthermore, parties being offered standard form contracts may not have the power to negotiate terms. Some contract terms and conditions may unfairly advantage one party, at the expense of the other, with the potential to transfer all or much of the risk in a transaction to the other party. Other contract terms may allow the party offering the contract increased flexibility and opportunity beyond what is reasonably necessary for the protection of their legitimate interests and to the detriment of the other party. Where recipients of standard form contracts fail to understand the risks they have taken or are poorly placed to manage them, they may benefit from regulation of unfair contract terms.
Unfair contract terms in standard form consumer contracts are regulated by provisions in the Australian Consumer Law. These provisions came into effect across Australia on 1 January 2011. They render unfair terms in standard form consumer contracts void, to protect consumers from unfair contract terms, and encourage the adoption of 'fair' contract terms. This followed a 2008 Productivity Commission Review of Australia's Consumer Policy Framework, which found that unfair terms were prevalent in consumer contracts and recommended passing such a law. Businesses, like consumers, also encounter standard form contracts and can face many of the same problems as consumers. This is likely to be particularly the case for small businesses that are commonly presented with standard form contracts and, like consumers, can lack the time and legal or technical expertise to critically analyse these contracts, and the power to negotiate. Compared to larger businesses, small businesses may also be less well placed to manage certain risks transferred to them by the other party. For these reasons, the Commonwealth Government is committed to extending unfair contract term provisions for standard form contracts to small businesses. There is considerable support from the small business community and representative organisations based on recurring accounts of small business vulnerability and disadvantage arising from unfair contract terms. There is also the potential for underreporting of the problem at hand, with some small businesses potentially feeling powerless in the face of a contract they see as non-negotiable and the resource advantage of the other party. Furthermore, businesses' interactions through contracts are different in a number of ways from consumer interactions, including greater diversity of transactions, increased likelihood of repeat transactions and large variation in transaction size. The policy options analysed are:
Option 1 — The status quo. No action is taken, contrary to the Commonwealth Government's policy commitment.

Option 2 — Light touch or non-regulatory responses.

Option 3 — Legislative amendment to extend the existing UCT provisions to contracts involving small businesses, in accordance with the Commonwealth Government's policy commitment.

Option 4 — Legislation to require contracts with small business to be negotiated on request."
A period of consultation is planned for the next 10 weeks, and the Treasury, as well as taking formal submissions, also offers a facility to submit a brief comment, or participate in a survey. DFA welcomes this initiative, and believes that contract terms do need to be made fairer for SME's. However, the real problem is the imbalance of power (money, legal firepower etc) between large customers (both corporates and government departments) and the SME's who contract with them to provide services. It will be interesting to see whether these larger players exert their influence on the consultation process. DFA plans to make a submission, based on our recent SME survey results.