The ABS data on employment to February 2016 revealed a nasty surprise with trend unemployment restated higher, and seasonally adjusted also up. The question of course must be, given the various tweaks done by the ABS are these numbers accurate? The trend unemployment rate in Australia was 5.8 per cent. The trend participation rate was unchanged at 64.6 per cent.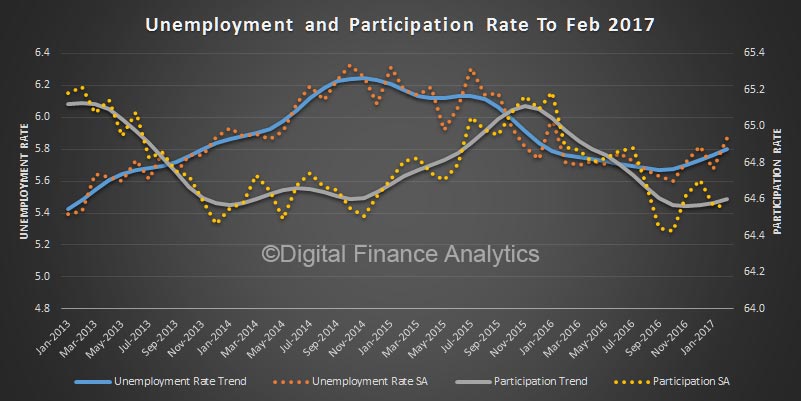 Full time jobs were up a little by 27,100, but part time jobs fell 33,500; hence a net drop. Across the states, Victoria added 10,600 jobs, but Western Australia and Queensland jobs fell by 5,500 and 11,500, respectively.
New South Wales has the lowest rate at 5.2 per cent whereas Queensland had the highest rate at 6.7 per cent. Weirdly, in Western Australia the rate fell 0.4 per cent but this was to a fall in the state participation rate.
"Over the past year, we have continued to see a relatively steady trend unemployment rate between 5.7 per cent and 5.8 per cent," said the Acting General Manager of ABS' Macroeconomic Statistics Division, Jacqui Jones. It should be noted that January 2017 trend unemployment rate was revised up from 5.7 per cent to 5.8 per cent, as part of the standard monthly revisions.

The quarterly trend underemployment rate remained at 8.6 per cent. "The underemployment rate is still at a historically high level for Australia, but has been relatively unchanged over the past two years," said Ms Jones.

Trend employment increased by 11,600 persons to 12,005,000 persons in February 2017, reflecting an increase in both full-time (4,600) and part-time (6,900) employment. This was the fifth straight month of increasing full-time employment, after eight consecutive decreases earlier in 2016.

Total employment growth over the year was 0.8 per cent, which was less than half the average growth rate over the past 20 years (1.8 per cent).

The trend monthly hours worked increased by 1.2 million hours (0.1 per cent), with increases in total hours worked by both full-time workers and part-time workers.

The trend participation rate was unchanged at 64.6 per cent.

Trend series smooth the more volatile seasonally adjusted estimates and provide the best measure of the underlying behaviour of the labour market.

The seasonally adjusted number of persons employed decreased by 6,400 in February 2017. The seasonally adjusted unemployment rate increased by 0.2 percentage points to 5.9 per cent, and the seasonally adjusted labour force participation rate was unchanged at 64.6 per cent.