The latest data from the ABS: Lending Finance to end July 2017, is the final piece on the monthly data releases which is the story of finance. Most striking is the rise in commercial lending, other than for investment home investment, up 2%, while lending for property investment fell as a proportion of all lending, and of lending for residential housing. This included significant falls in NSW where it appears investors may be changing their tune.
So, finally some green shoots of business investment perhaps. We really need this to come on strong to drive the growth we need to stimulate wages. The upswing is there, but quite small, so we need to watch the trajectory over the next few months.  Overall lending grew 0.64% in the month, (which would be 7.8% on an annualised basis), way stronger than wages or cpi.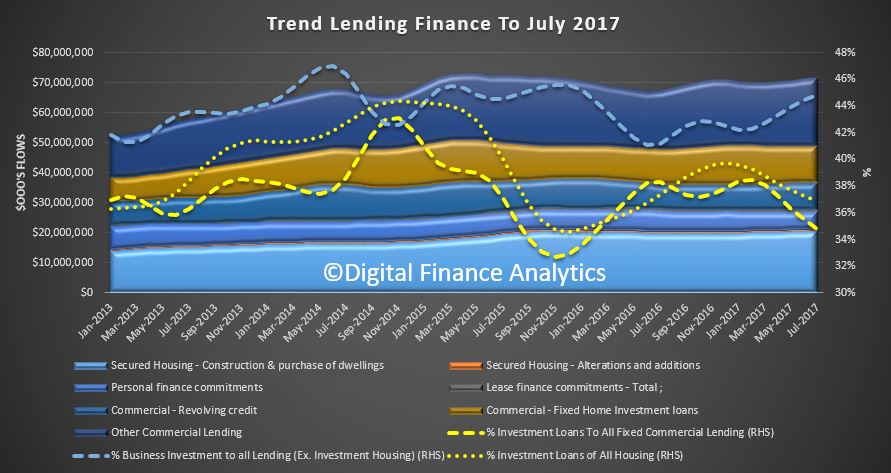 The total value of owner occupied housing lending excluding alterations and additions rose 0.7% in trend terms. The trend series for the value of total personal finance commitments fell 0.5% within which fixed lending commitments fell 0.6% and revolving credit commitments fell 0.4%.
The trend series for the value of total commercial finance lending rose 0.8% of which fixed lending commitments rose 1.0% and revolving credit commitments rose 0.1%, while the value of total lease finance commitments fell 4.1% in July 2017.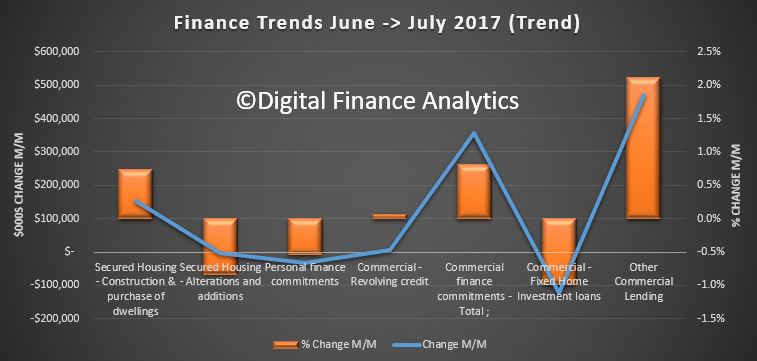 The ABS made a series of revisions in prior months – without explanation: Commercial Finance for the month of June 2017, Personal Finance for the periods between April 2017 to June 2017 and Investment housing finance for the month of June 2017.