We have released the latest edition of the Digital Finance Analytics Household Finance Confidence Index, to end January 2017 today, which is a barometer of households attitudes towards their finances, derived from our rolling household surveys.
The aggregate index fell slightly from 103.2 in December to 102.68 during January, but is still sitting above a neutral measure of 100, and the trend remains positive. However there are a number of significant variations within the index as we look across states and household segments. These variations are important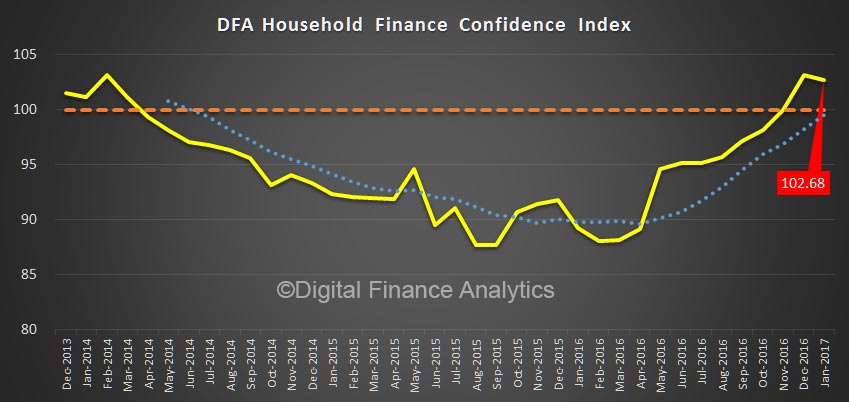 First, the state scores are wider now than they have ever been, with households in NSW the most positive, at 110, whilst households in WA slip further to 81. Households in VIC and SA also slipped a little, whilst households in QLD were a little more positive.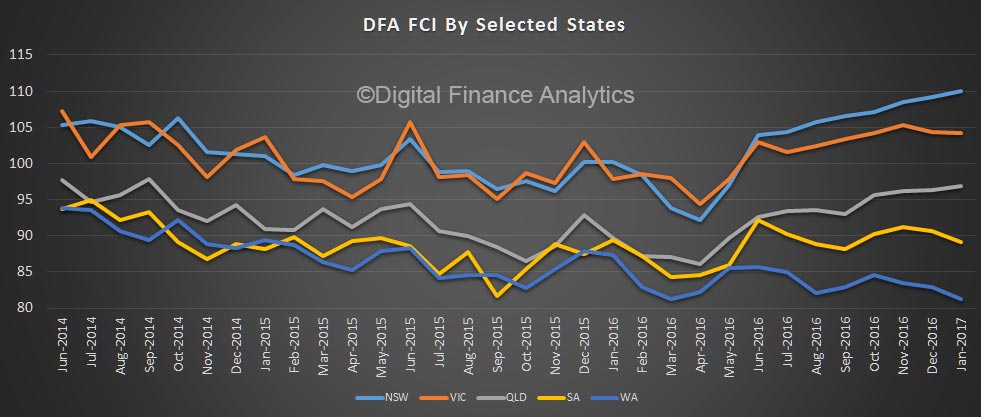 The performance of the property market is the key determinate of the outcomes of household finance confidence, with those holding investment property slightly more positive than owner occupied property owners, whilst those who are renting, or living with family or friends are significantly less positive. Whilst some mortgage holders have received or expect to see a lift in their mortgage rate, this is offset by strong capital growth in recent months. The NSW property holders, especially in greater Sydney are by far the most positive. Renters in regional WA, where employment prospects are weaker, are the least positive.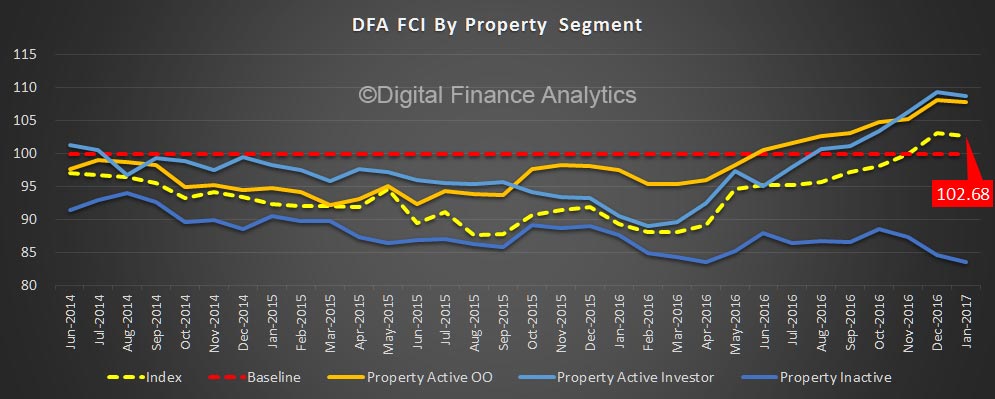 Looking in detail at the drivers of the index, we see a rise by 1% of households who are felling less secure about their employment prospects – especially those in part-time jobs – and more are saying they are under employed.
In terms of the debt burden, there was a 4% rise in those less comfortable about the debt they hold, thanks to rising mortgages, the Christmas spending binge and higher mortgage rates.
More household are saying their real incomes have fallen, up 3%, whilst those who say their costs of living have risen was up 8%.
To offset these negative indicators however, some households reported better returns from term deposits and shares, as well as a significant boost to capital values on their property. Those who said their net worth had risen stood at 64%, up 5% from last month.  The property sector is firmly linked to household confidence, and vice-versa.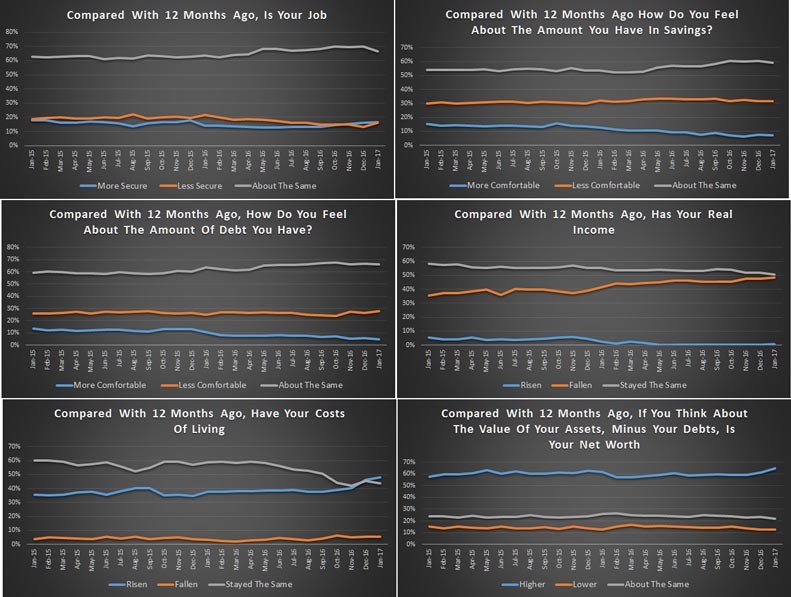 By way of background, these results are derived from our household surveys, averaged across Australia. We have 26,000 households in our sample at any one time. We include detailed questions covering various aspects of a household's financial footprint. The index measures how households are feeling about their financial health. To calculate the index we ask questions which cover a number of different dimensions. We start by asking households how confident they are feeling about their job security, whether their real income has risen or fallen in the past year, their view on their costs of living over the same period, whether they have increased their loans and other outstanding debts including credit cards and whether they are saving more than last year. Finally we ask about their overall change in net worth over the past 12 months – by net worth we mean net assets less outstanding debts.