Today we release the latest monthly edition of our household finance confidence index for April 2017, which show a fall from 102.5 to 101.5, just above the neutral setting.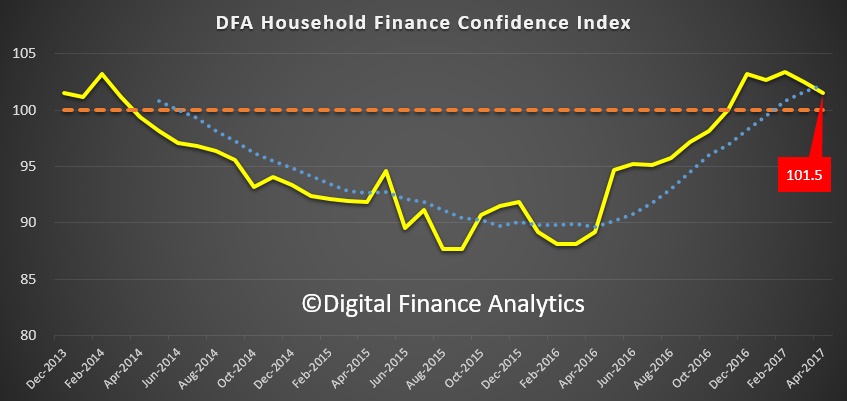 The index is drive from the results of our household surveys, and highlights some important movements, mostly related to the recent changes in the property market.
Property Investor levels of confidence weakened, thanks to rising mortgage interest rates and concerns about property prices and pre-budget speculation about changes to negative gearing. In fact owner occupier households are now more confident than investors. As usual households without property interests have a significantly lower level of confidence about their financial status.

The results by state shows that NSW leads the way, with households there still enjoying the glow of stronger employment and economic growth, to say nothing of high home prices. More people of course own property than not. VIC continues to weaken, costs of living appear to be accelerating there (especially child care and school fees, plus energy and council rates). Most other states saw a small rise, though from a position below the 100 neutral point. The divergence across the states is becoming more extreme.

Looking at the scorecards, whilst job security is about the same, households were less comfortable with their savings, and debt. Mortgage rate rises are working their way through, and many households with deposits in the bank are still seeing lower returns.
Falling real incomes are a strong factor in the mix, together with rising costs of living. these combined explain the rise in mortgage stress. Net worth is still improving thanks to home price appreciation, other than in WA, regional QLD and TAS.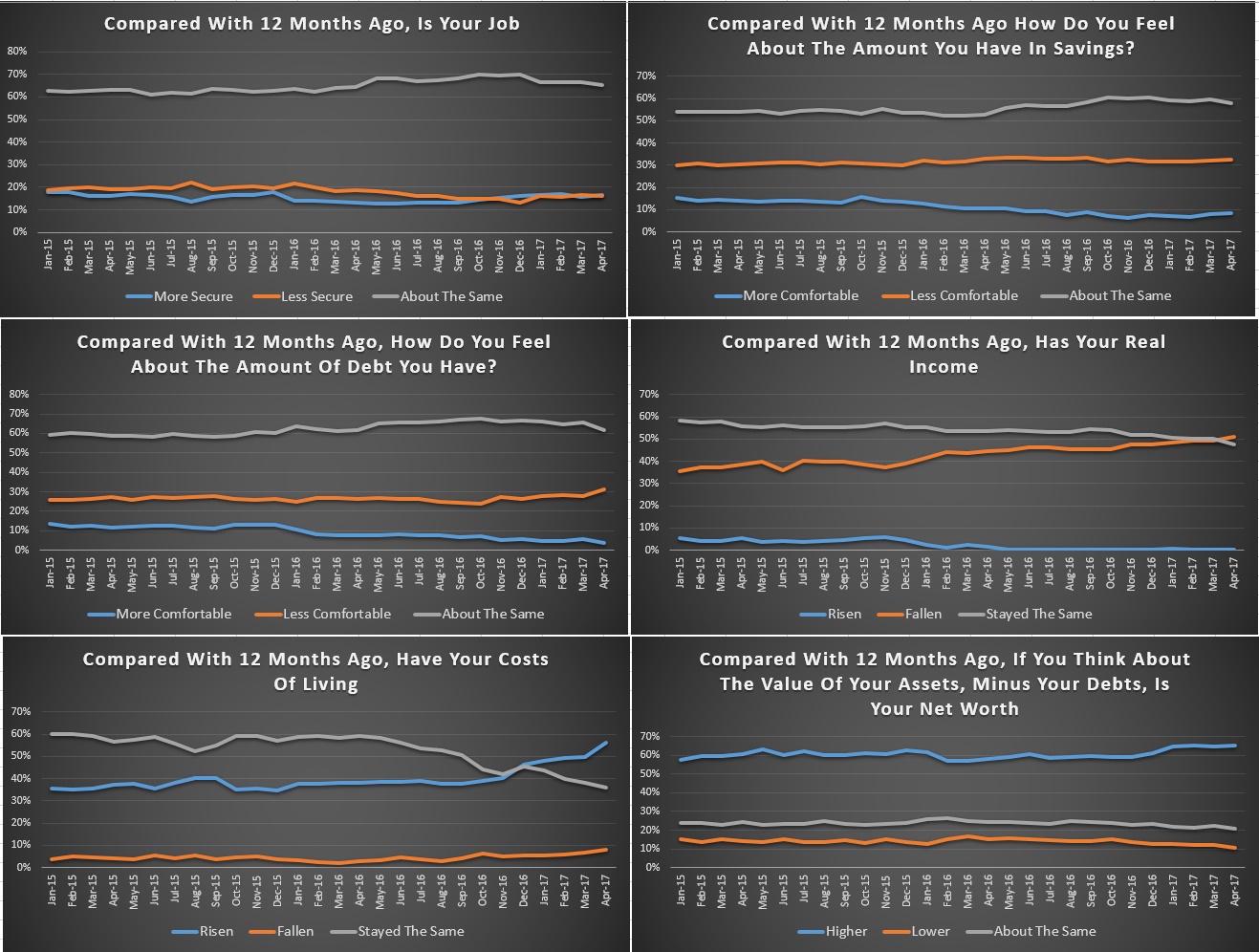 By way of background, these results are derived from our household surveys, averaged across Australia. We have 52,000 households in our sample at any one time. We include detailed questions covering various aspects of a household's financial footprint. The index measures how households are feeling about their financial health. To calculate the index we ask questions which cover a number of different dimensions. We start by asking households how confident they are feeling about their job security, whether their real income has risen or fallen in the past year, their view on their costs of living over the same period, whether they have increased their loans and other outstanding debts including credit cards and whether they are saving more than last year. Finally we ask about their overall change in net worth over the past 12 months – by net worth we mean net assets less outstanding debts.