The latest data from APRA for September shows the portfolios of individual banks in Australia as well as details of total loan exposures.
Total lending for housing went to $1.5 trillion, up 7 billion in the month. Of that $5.2 billion was for owner occupation and $1.8 billion for investment loans. As a result 35.5% of loans are for investment purposes.
Looking at the portfolio data, we see that Westpac and CBA had the bulk of the growth, across both owner occupied and investment loans. NAB grew in both categories, whereas ANZ dialed back their investment lending (perhaps from reclassification?). It is worth noting that ING is also growing their owner occupied portfolio and Members Equity Bank grew strongly.  Pressure on some of the regional banks continues.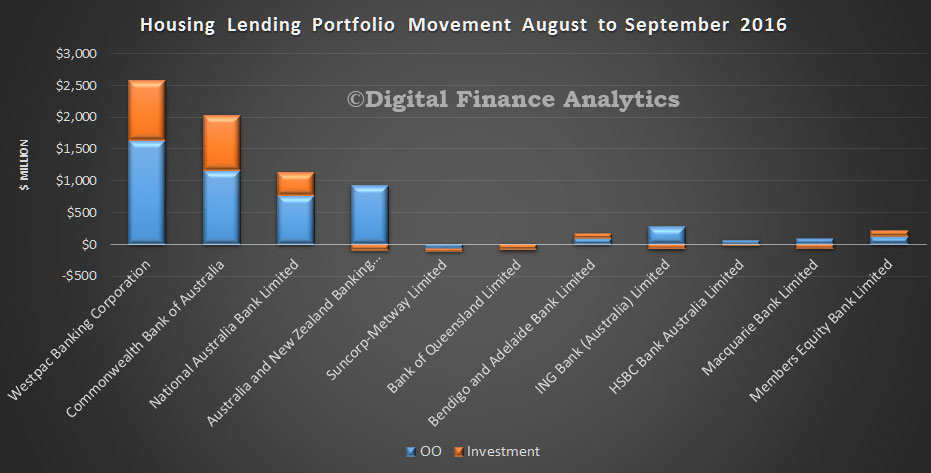 This has done little to change the relative market shares, with CBA in first place on owner occupied loans, and Westpac first on investment lending, but with CBA now nipping at their heals.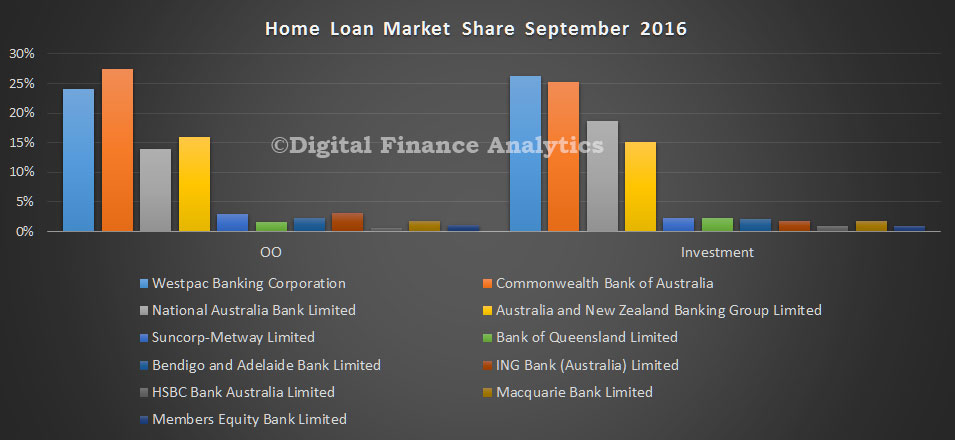 Finally, here is the relative investment lending portfolio growth. On a 3 month annualised basis, the total market grew 2.8%, but now three of the major players are operating above system growth, though still below the 10% speed limit imposed by APRA last year.

There has clearly been a focus on energising investment lending, as we predicted in our Property Imperative report.  We expect momentum to continue for some time to come, hampering the RBA's ability to cut the cash rate if they needed to.  We still believe further macroprudential measures are needed.