The ANZ Job Advertisements index rose 1.4% m/m in April in seasonally adjusted terms, following a more modest 0.8% rise the previous month.
Annual growth in job ads jumped to 10.1% this month from 7.1% in March.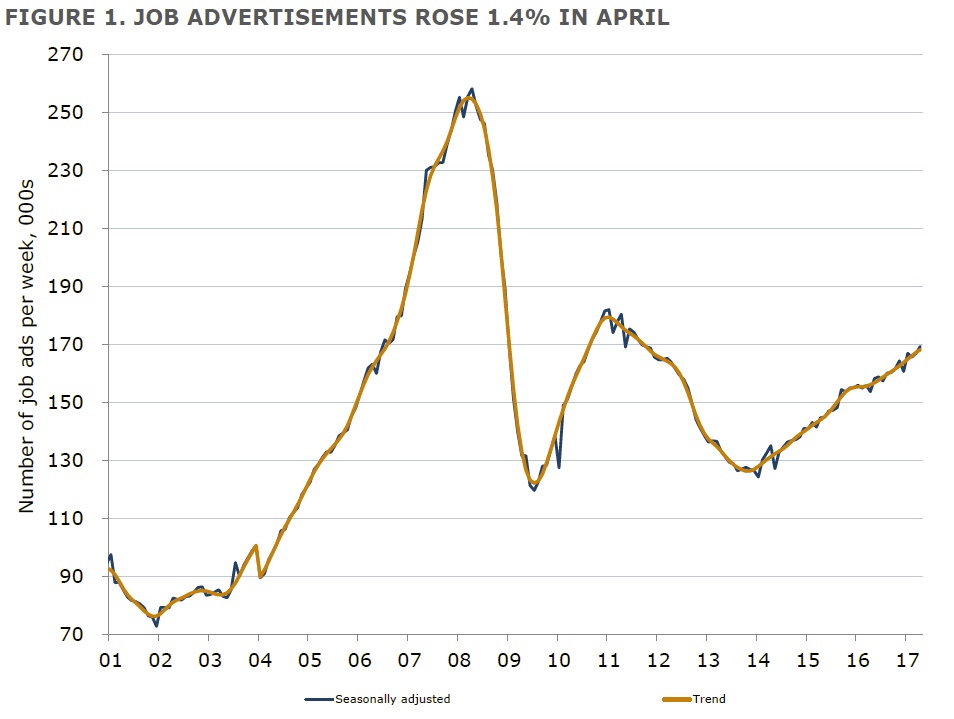 Trend growth in job ads rose by a more modest 0.6% m/m in April. The trend m/m growth rate has remained within the 0.6-0.7% range since June last year. In annual terms, the trend rate rose to 7.7% y/y this month from 7.5% y/y in March.
"The improvement in ANZ Job Ads and other leading employment indicators suggests we may be in for a sustained period of strength in the official employment data following the strong lift in jobs in March.

After tracking around 5¾% for most of 2016, unemployment has recently moved higher. Meanwhile, business conditions and confidence remain well above the long run average, and capacity utilisation now sits at its highest level since 2010.

The jump in employment numbers in March, while encouraging, has not fully closed the gap between the official numbers and survey-based methods. In our view, employment is likely to show further strength over the coming months to close this gap. In time this should be reflected in a pick-up in wage growth. Given the spare capacity in the labour market, however, any improvement in wage growth is likely to be gradual, suggesting that labour cost pressures will continue to remain subdued for some time."