The IMF has released their latest quarterly Global Housing Watch report. They classify Australia as in a "Boom" phase.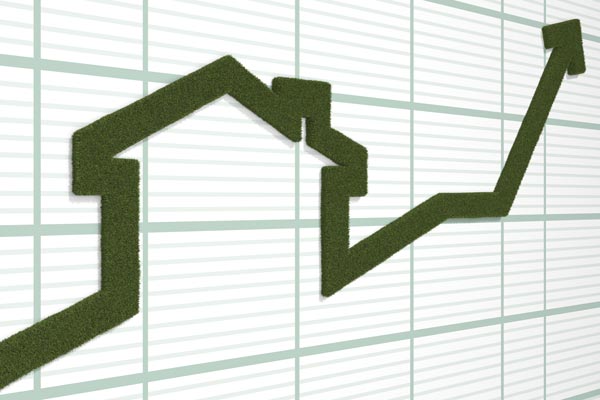 By some metrics, housing market conditions have cooled and credit growth to households has slowed, but risks related to house price and debt levels have not yet decreased.

Their specific assessment on Australia points out that house price gains have moderated [but this does not reflect more recent events]. However, the extent of cooling has varied considerably across cities. The strongest price increases continue to be recorded in Sydney and Melbourne, where underlying demand for housing remains strong. With house prices still rising ahead of income, standard valuation metrics suggest somewhat higher house price overvaluation relative to the previous IMF assessment.

The latest IMF assessment says that signs of commercial real estate overvaluation have emerged. Commercial real estate prices in Australia have increased rapidly since mid-2014. Rents have not followed at the same pace, and the price-to-rent ratio is now above average. Whether the latter is a good metric of fair value is difficult to assess. Risks to financial stability from any potential CRE overvaluation appear manageable. The share of commercial real estate lending in commercial banks' total assets decreased in the past few years and has now stabilized at around 5 percent.
Overall the IMF's Global House Price Index—an average of real house prices across 57 countries — continued to climb up in the third quarter of 2016. This is the sixteenth consecutive quarter of positive year-on-year growth in the index.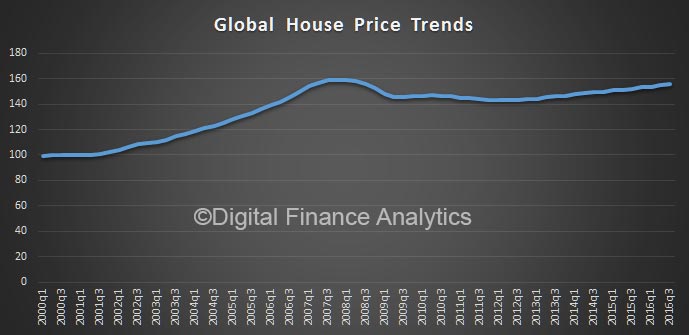 They classify countries by "Gloom", "Bust and Boom" and "Boom".
Gloom
Brazil: Rio de Janeiro, China: Shanghai, Croatia: Zagreb, Cyprus: Nicosia, Finland: Helsinki, France: Paris, Greece: Athens, Macedonia: Skopje, Netherlands: Amsterdam, Russia: Moscow, Singapore: Singapore, Slovenia: Ljubljana, and Spain: Madrid.
Bust and Boom
Denmark: Copenhagen, Estonia: Tallinn, Hungary: Budapest, Iceland: Reykjavik, Indonesia: Jakarta, Ireland: Dublin, Japan: Tokyo, Latvia: Riga, New Zealand: Auckland, Portugal: Lisbon, South Africa: Johannesburg, United Kingdom: London, and United States: San Francisco.
Boom
Australia: Melbourne, Austria: Vienna, Belgium: Brussels, Canada: Toronto, Chile: Santiago, Colombia: Bogota, Hong Kong: Hong Kong, India: Delhi, Israel: Tel Aviv, Korea: Seoul, Malaysia: Kuala Lumpur, Mexico: Mexico City, Norway: Oslo, Slovakia: Bratislava, Sweden: Stockholm, Switzerland: Zurich, and Taiwan: Taipei City.
The position of Australia on the price growth is probably understated (based on more recent data).

Credit growth in Australia is towards the upper end of the countries listed.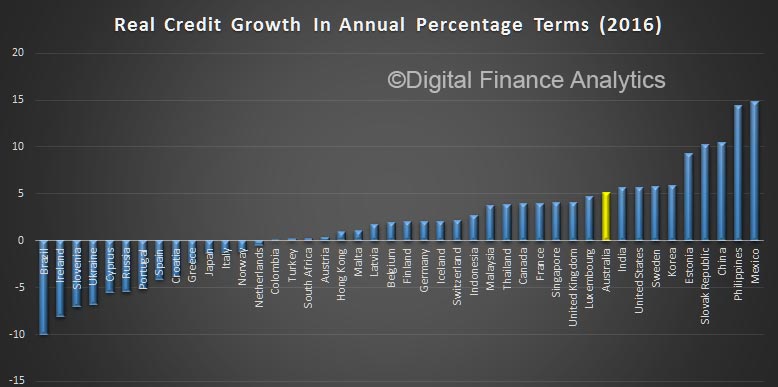 The price to income ratio is Australia is relatively high.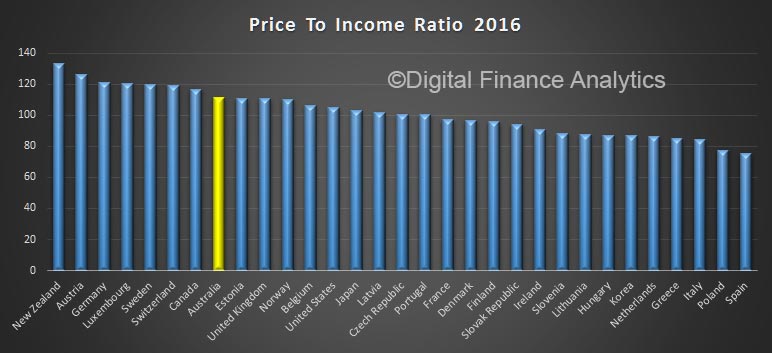 The house price to rent ratio shows Australia above the average.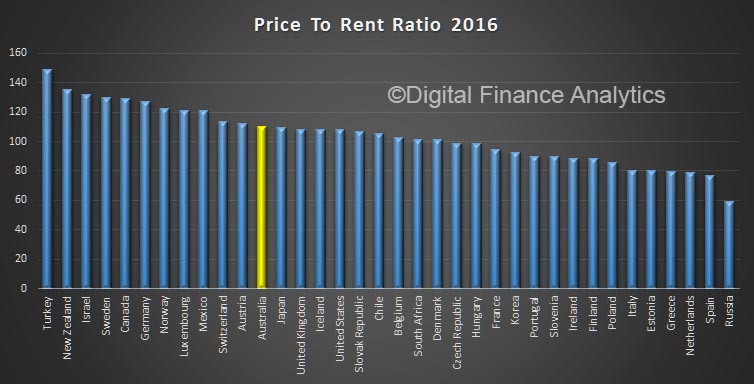 This suggests the housing issues are global in nature, and not exclusively the result of local policy settings! Many countries are are feeling the draft from low interest, and rising home prices.