Continuing our posts from DFA's latest Property Imperative report, just released, which contains the latest data from our surveys, today we focus on the Want-To-Buys. This segment comprises households who want to buy a property, some are saving, but have not yet committed. Their aspirations are being crushed by current market conditions.
Over 1.3 million households aspire to purchase property, of which 84% are looking for owner occupied, and 15% are looking for an investment property.
At the moment 17% are actively saving, hoping to buy sometime in the future, this is lower than last year, when 28% were saving. For many, they see the savings task beyond them now because of rising prices, lower bank deposit rates, and lower incentives to enter the market.
The biggest barriers which are stopping them from purchasing, include that prices are too high (51%), the costs of living (17%) and fear of employment (13%). Only 1.3% were expecting to transact within the next 12 months, indicating that the majority are currently disenfranchised from the property market, despite the fact that 41% expect house prices to rise over the same period.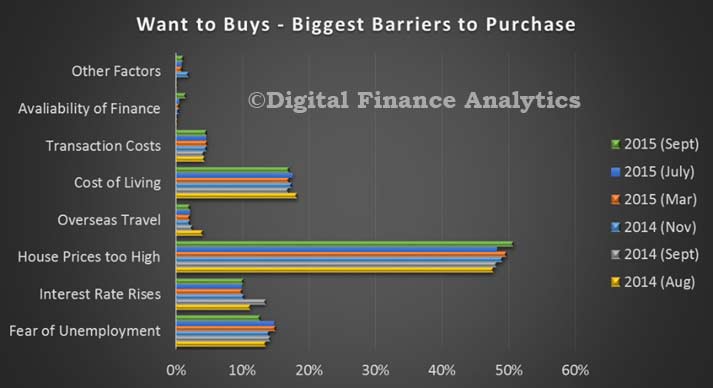 The proportion of households who are disenfranchised by high house prices continues to rise, whilst issues relating to unemployment have moderated slightly.
We also note a small rise in households unable to obtain mortgage finance, thanks to tighter underwriting standards.
Next time we will look at first time buyers.