Today we continue our discussion of the latest Digital Finance Analytics household surveys, which looks in detail at intentions to purchase property in the next 12 months. This includes data up to late July, so is clear of potential election impacts. The analysis uses a large sample size, so is statistically robust. We use a segmentation model to flush out the main differences between household types. This is described in our publication "The Property Imperative" which is available on request. These results will flow into the next edition later in the year.
We start with some cross-segment comparisons. First, we find that households are just a little less confident house prices will rise in the next year, compared with 12 months ago. However, around half of all households still believe price growth will roll on. Property investors are the most optimistic, whilst those seeking to sell-down, the least.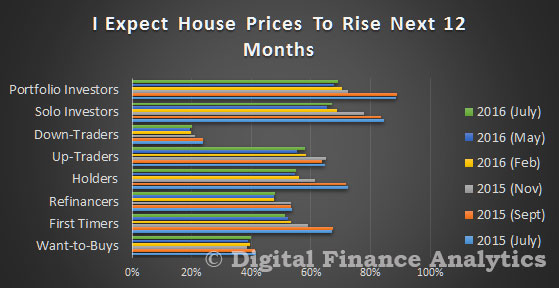 Looking next at whether households expect to transact, we find that investors are mostly likely to make a purchase, but there is a continued rise among those wanting to refinance. 40% of those seeking to refinance expect to do so in the coming year.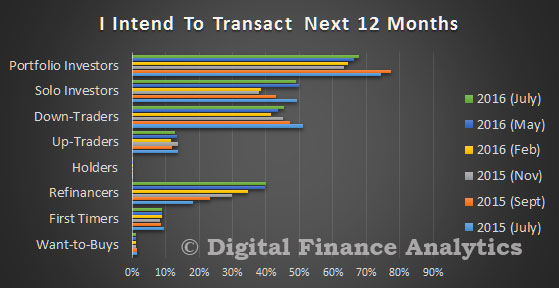 Turning to borrower expectations, first time buyers, those trading up, and portfolio investors are most likely to seek additional mortgage funding. In fact, as interest rates have fallen, demand is even stronger.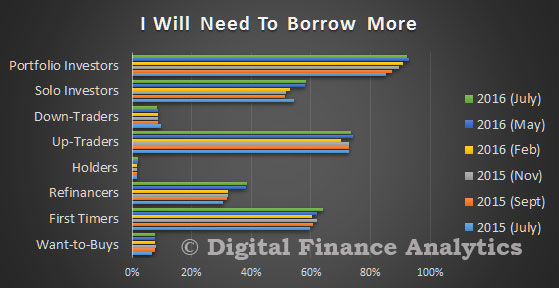 Those saving to assist in a purchase are mainly confined to households who are yet to transact, or who are trading up. More than 70 per cent of first time buyers wishing to purchase, continue to save.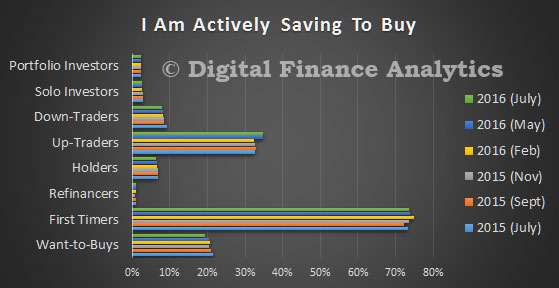 We will look in more detail at the forces which are driving investors in a later post, but this summary chart gives a good flavour of what we found. Tax efficiency is the single most powerful driver, and property capital appreciation is also important. Together these are perceived to give better returns that from deposits (in this low interest rate environment).  Around 15 per cent of investors cited the low finance rates currently available.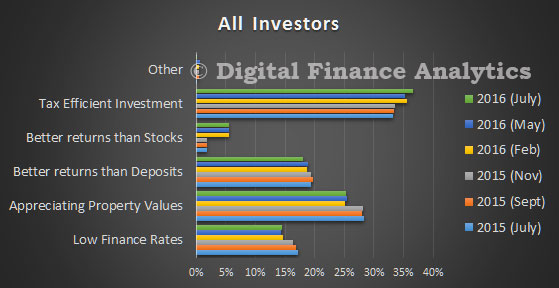 Finally, in this post, we look at which household segments are most likely to use a mortgage broker. Given that half of all new transactions are originated via this route, understanding which customer groups are most likely to reach of advice is important. Those seeking to refinance are most likely to transact via a broker.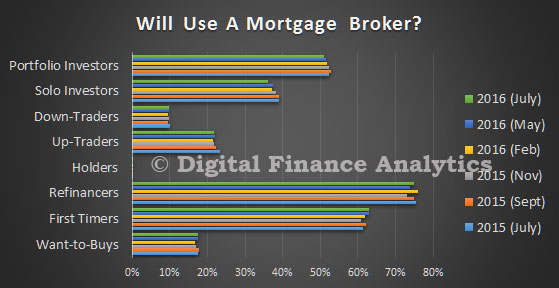 Next time we will look at some of the more detailed segment specific analysis. But in summary, whilst property transaction, and lending volumes may be falling, there is still strong demand for property. This will provide ongoing support for prices in the coming months, and also suggests that households will be seeking deals from lenders. There is life in the old dog yet!