We have updated our household surveys with the results for September. This forward-looking research revealed some significant changes in sentiment amongst households thinking of transacting, and many of these changes can be traced to recent comments made by the RBA in respect of investment housing. Our approach to household segmentation and our surveys is described in an earlier post.  Today we will discuss some of the most important recent findings, which updates the results from our Property Imperative report.
So first we look at which segments are most likely to transact in the next 12 months. The changes over time are significant, with first time buyer ever less likely to purchase whilst investors, especially portfolio investors, more likely to buy. The impact of down-traders (remember there are more than one million households in this category) are also significant.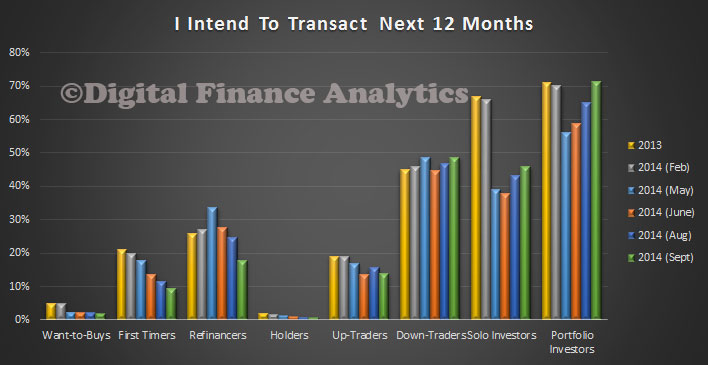 Demand for mortgage funding sits firmly with certain segments, especially investors, first time buyers and up-traders. Note that the bulk of down-traders do not need to borrow. This goes some way to explaining why house prices are moving faster than loan growth, and why investment loans are making up a large proportion of lending, especially in Sydney.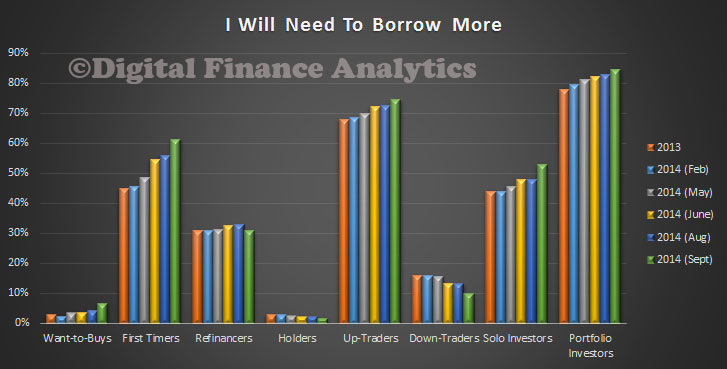 We found that first time buyers are still saving hard, though chasing ever higher prices, want-to-buys are saving less now, seeing the aspiration of owning a property evaporating fast.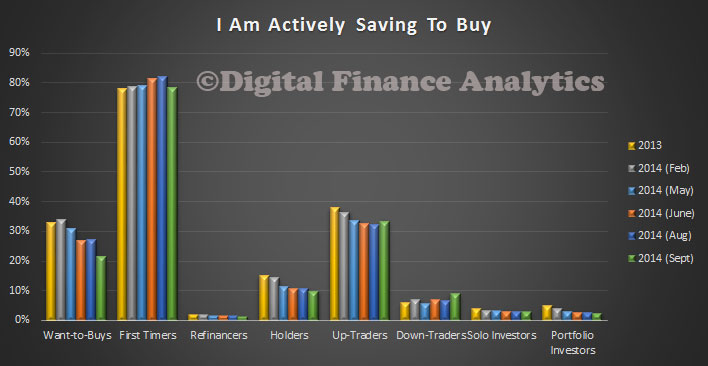 We found that across the board, there was a little less certainty on house prices growth, though generally investors remain more bullish.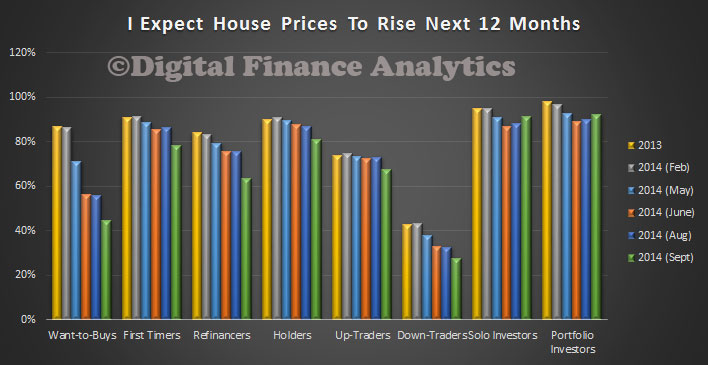 The want-to-buys find the biggest barrier relates to the high price of housing. No change here.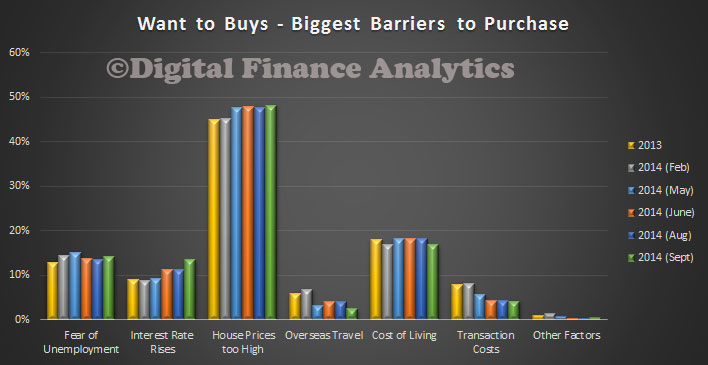 This barrier is also echoed in the first time buyer segment, with 50% seeing price as the main issue, the highest result in recent times.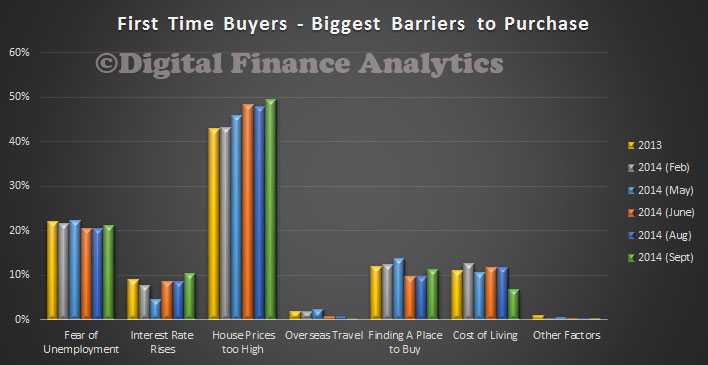 Many refinancers will have now locked in at low rates, as the main reason is to reduce monthly outgoings. The proportion locking in at fixed rates is down a little.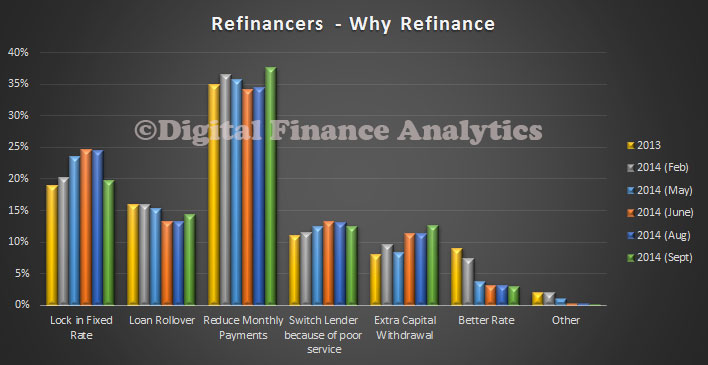 We found that up-traders are still active, and there was an increase in those in this segment who are motivated by the prospect of capital appreciation, which is now running ahead, just, of buying to get more space. As shown above, the proportion of up-traders ready to transact is down a little.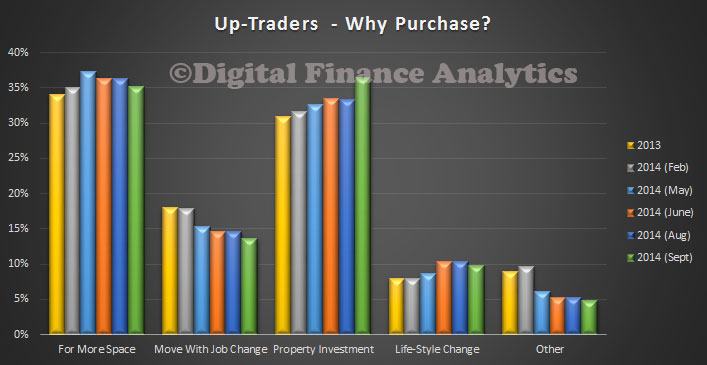 Down-traders continue to seek to sell and buy smaller, driven by a quest to release capital for retirement, and for increased convenience. They were slightly more likely to incorporate an investment property in their strategy. We think the impact of down-traders on the market is understated by many observers, but the continuing release of capital from larger property, and buying smaller, plus investment, aligns with the growth in investment property demand, and yet lower rates of financing elsewhere.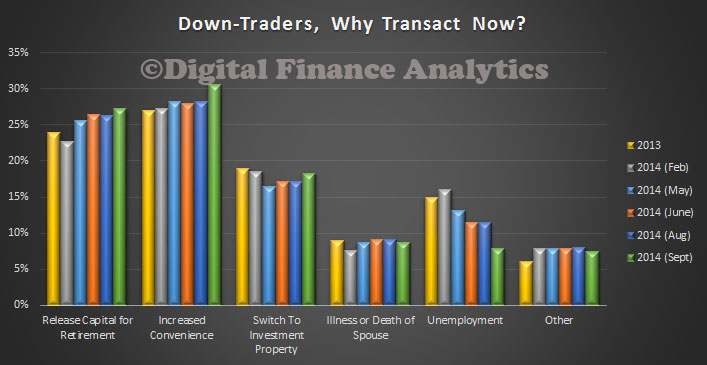 Looking at investors, we see continued interest, driven by the tax-efficient nature of investment lending (a.k.a negative gearing, and SMSF investing). They remain confident about capital appreciation into the future, though less strongly than previously.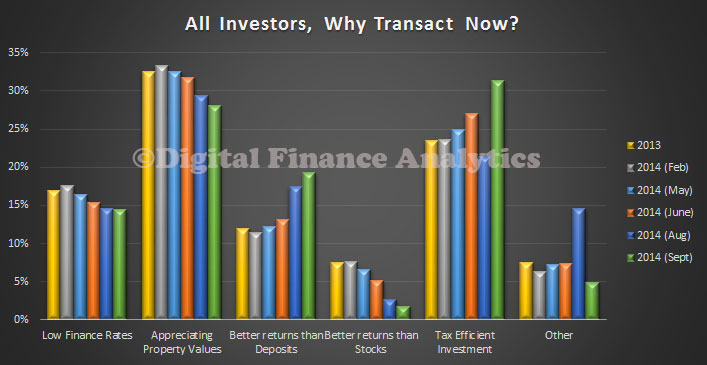 Finally, we looked at the potential barriers to investors, and we see a significant change. We ask about a range of barriers. One related to RBA warning, which this month have reach a new, high pitch. Investors are responding, and a proportion are concerned about potential regulatory changes. We also saw a tick up in the concerns about interest rates rising in coming months.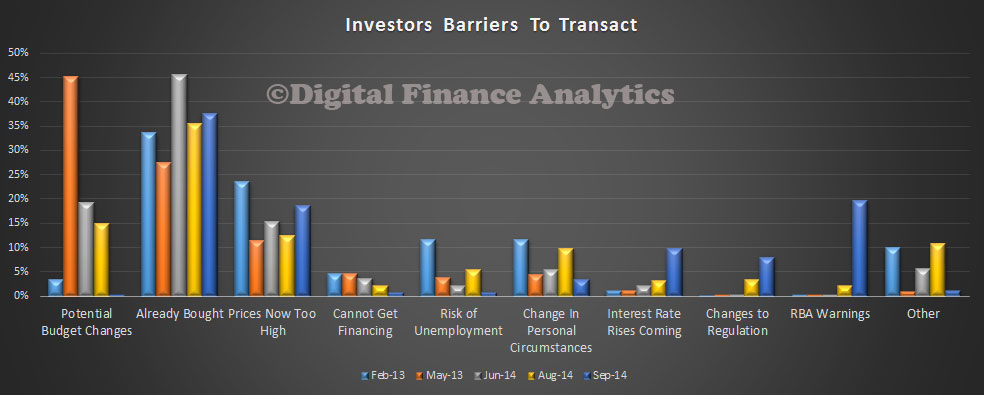 Overall then we still see demand strong, and focused in particular segments, especially investors and down-traders. However, the RBA warning are having an impact, even before they actually do anything to intervene further in the market. We do not believe that words alone will address the underlying systemic issues, but they can have a short term impact on sentiment, and may make some prospective purchasers think again – we therefore expect to see some small slowdown in coming weeks. That said, the market remains hot, and stoked by investors, and we believe there is a case for more direct intervention by the regulators. We also expect the RBA to keep up the verbal barrage.