From The Real Estate Conversation.
The current state of the property market in Sydney is still unclear following on from another weekend of auction results," John Cunningham, president of the REINSW, told SCHWARTZWILLIAMS.

Cunningham said that 40 per cent of results have not been reported, and if those results represent a no sale, then the clearance rate for Sydney could be a lot lower than the 66.2 per cent being reported by CoreLogic.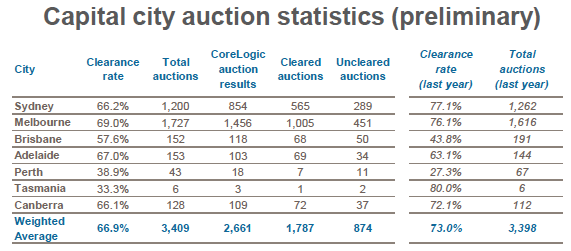 Source: CoreLogic.
"With an initial clearance rate again in the mid 60 per cent range, the lack of clear data from the 40 per cent of unreported results fails to provide us with the real picture of the market," he said.

"How many were withdrawn, how many were passed in, how many had no bids, needs to be known to get a clear picture," said Cunningham.

"If we consider the worst case scenario that this missing 40 per cent did not sell, then the true clearance rate is 65 per cent of 60 per cent being 40 per cent," said Cunningham.

"The reality from the word in the street is more like over 50 per cent of properties listed for auction at present are either selling at or before auction," clarified Cunningham.

With so much uncertainty about auction clearance rates, Cunningham said the days on market "becomes the true test of what is really happening". In the past year, days on market has risen from 33 days to 49 days, he said.

"It is sometimes taking longer to get vendors and buyers aligned on price," said Cunningham.

Agent Nigel Mukhi from McGrath Lower North Shore Neutral Bay told SCHWARTZWILLIAMS he agrees with Cunningham's assessment.

Though Mukhi said that the trend doesn't apply to his office, when his competitors withdraw a property from auction or if they don't sell, they don't report the result.

Mukhi said that his office is achieving a clearance rate of 82 per cent, and that Sydney has to be analysed area by area.

Higher volumes weighing on Melbourne's clearance rate

REIV President Richard Simpson told SCHWARTZWILLIAMS that the latest REIV data shows that 1,305 homes went to auction last weekend, recording a preliminary clearance rate of 69 per cent.

"Victoria's weekly clearance rate has dipped below 70 per cent for the first time since June last year, as high auction volumes start to meet buyer demand."

High auction volumes are set to continue, said Simpson, with around 1,300 auctions scheduled this coming weekend and a further 1,450 the following week.

"The city's strong auction market is set to continue well into December with more than 3,600 auctions scheduled throughout the month," said Simpson.

Regional areas experiencing strong clearance rates, said Simpson, especially Greater Geelong which achieved a clearance rate of 82 per cent.

Soft Northern Territory clearance rate

The Northern Territory recorded soft auction clearance rates last week, according to Karl Secondis of One Real Estate.

"Overall our market had a soft clearance rate of just 27 per cent," he wrote in his report 'The Auctioneer'.

"A large number of new listings have just hit the market this week which has strengthened auctions numbers in the final weeks leading into Christmas with a bumper week of over 30 auctions set to take place in week 49," he wrote.

Five properties will go to auction in Gove on Wednesday night