We just published our latest Small and Medium Business report, based on our surveys and analysis. Today we overview the structure of the current SME landscape. Up to 50% of SME's will fail within 5 years.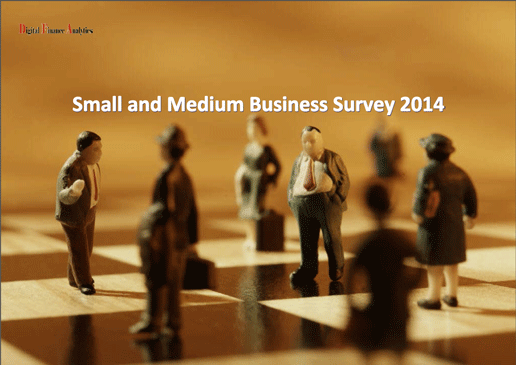 We define the SME sector as businesses with a turnover of less than $1 million, less than 100 employees and with an Australian Business Number (ABN). These businesses may be established as a trading company, partnership, sole trader or trust. In addition we include micro businesses. These are defined as trading businesses with a turnover of less than $100,000, who are not employing. Many are part-time businesses, without an ABN, and using personal banking facilities for their business needs. An example would be a household running a business on eBay. We identify those businesses who have actively traded in the past 12 months, and define these as "active" SME's or micro businesses in our analysis. Self-managed superannuation funds are excluded. There are a little over three million SME and micro businesses in Australia. Of these, 71% are active, which equates to just over 2.1 million. Since 2012, the proportion of businesses who are active has increased slightly.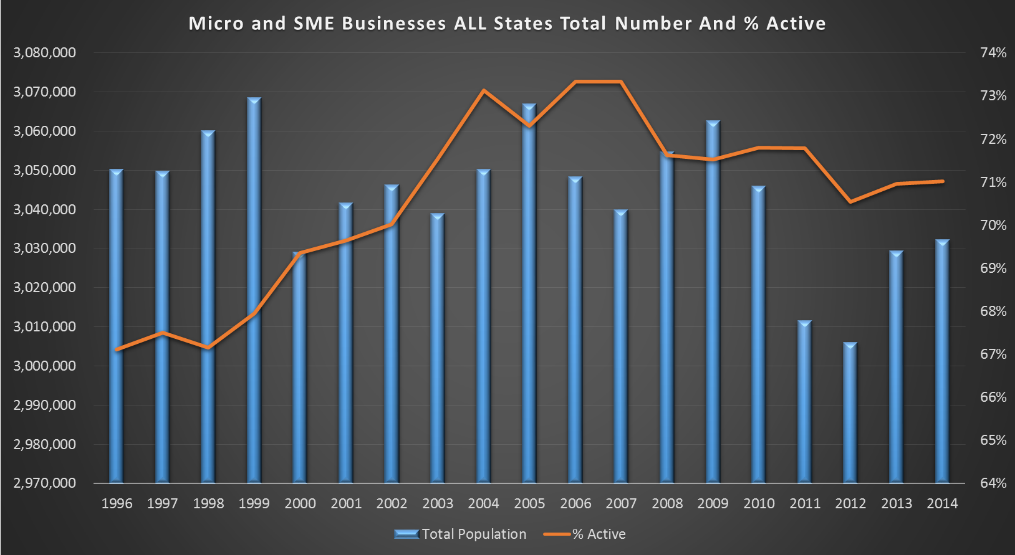 The trends in relative distribution of SME businesses across states has varied slightly recently.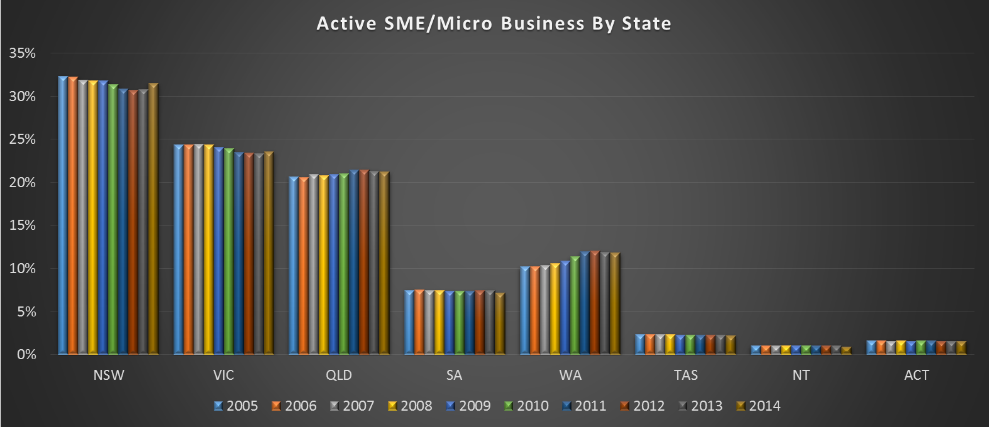 In NSW and VIC, after a relative decline from 2005, we see an increase in 2014. In WA relative growth in the number of active SME's has stalled in the past couple of years.
Turning to industries, we use the standard Australian Bureau of Statistics definitions . Our trend data highlights relative movements by industry in recent years. The single largest sector is construction, where we note that after falls between 2009 and 2012, the number of businesses have levelled out. Manufacturing and retail continues to fall, whereas businesses in the healthcare and social assistance sector are rising.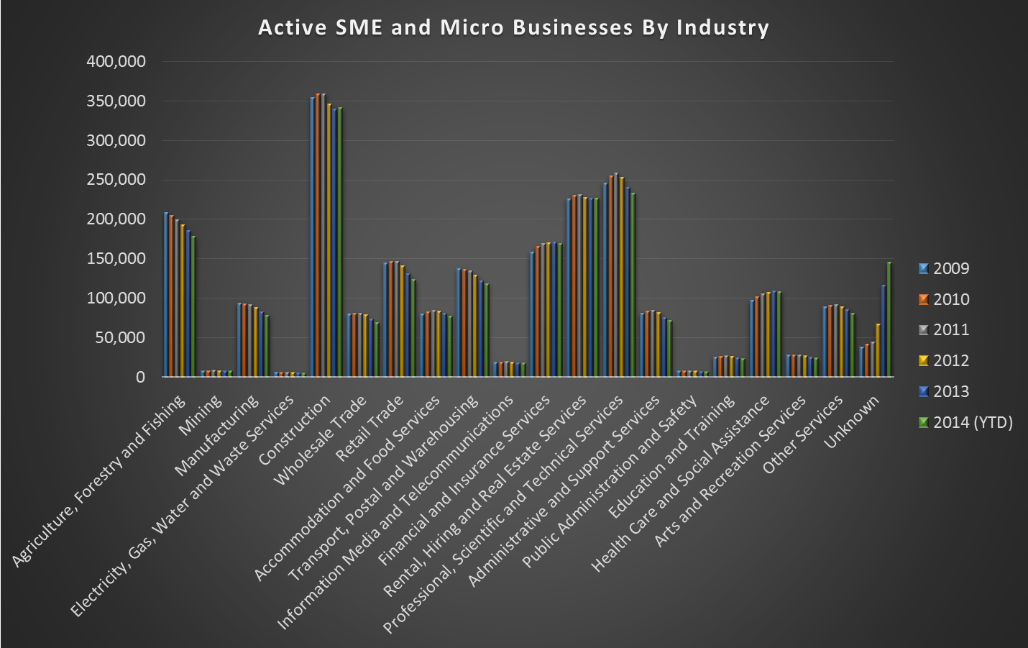 There is a significant rise in the number of "unknown" businesses. Many of these are part-time internet based businesses, for example selling goods or services via trading sites. Finally, mining sector has a relatively small number of businesses, although there are a number of second order relationships between mining with other business sectors. More SME's and micro businesses are sole traders than other ownership structures (42%). Companies account for 32% of business, partnerships (14%) and other structures, including trusts account for 12% of businesses.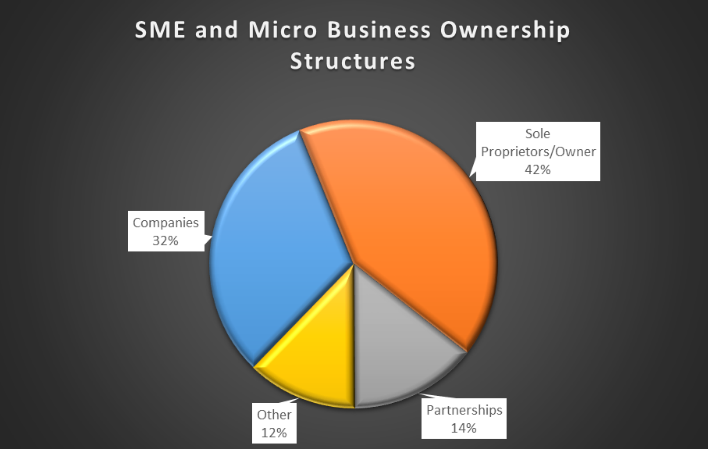 Franchises vary across the industries. Accommodation, construction and retail trade have the highest penetration of franchise businesses.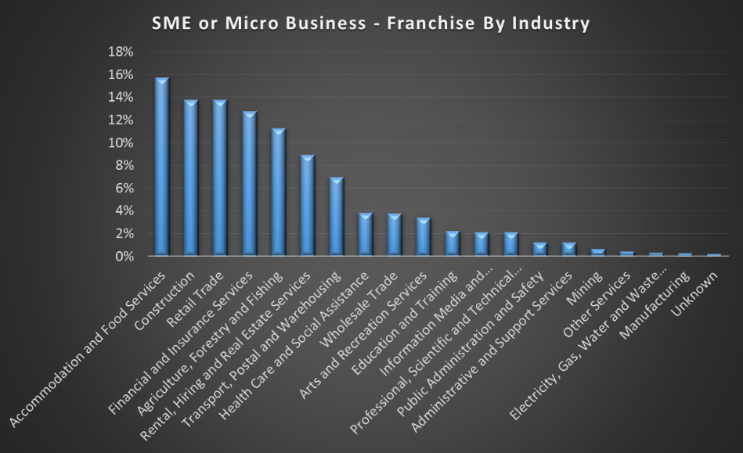 The SME and micro business sector is characterised by a large number of new business starts and closures each year. The proportion of businesses does vary by industry.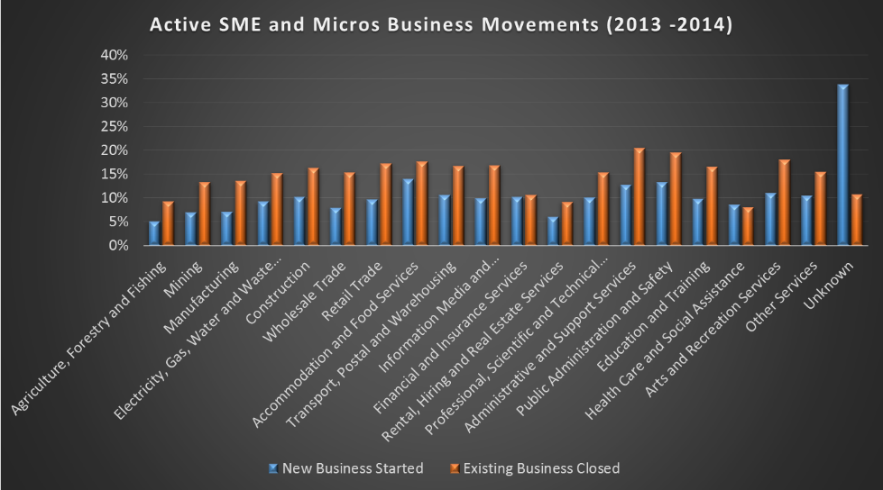 Half of SME and micro businesses will cease trading within five years of their establishment. Health care and social assistance, Agricultural, forestry and fishing and rental, hiring and real estate are more likely to survive, whereas public administration & safety, accommodation & food services and administration & support services are the least likely to survive.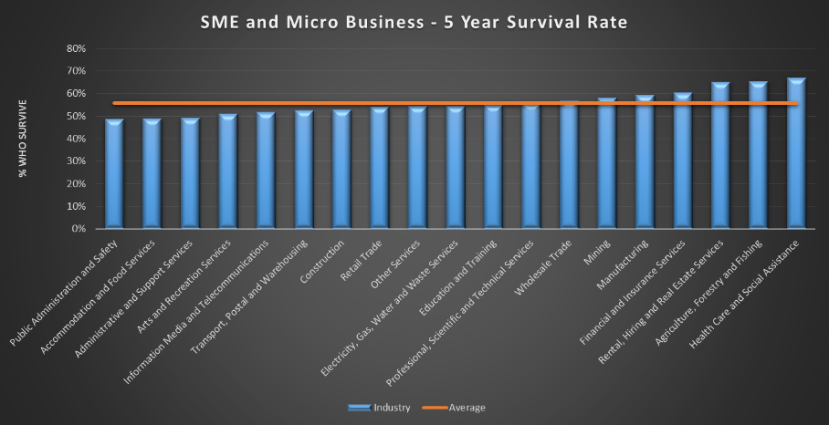 Looking at the five year survival trends by business type, sole traders are most likely to fail.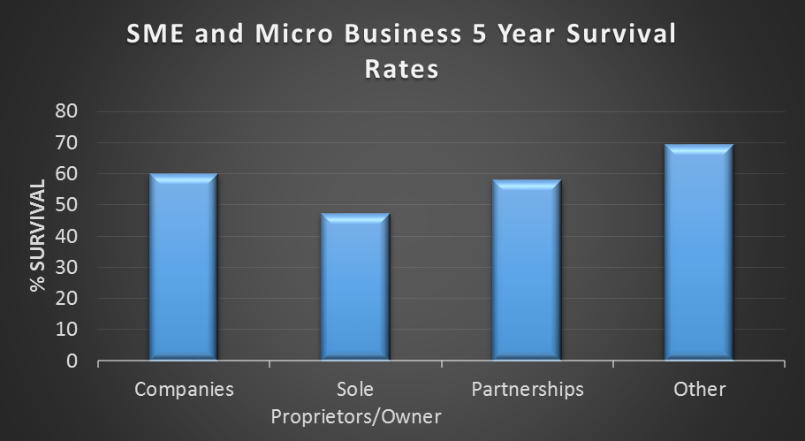 Many businesses fail because they are not designed correctly, and as a result are not able to secure enough customers. The lack of funding was also a significant cause of failure, as well as business owners finding their business was just too demanding.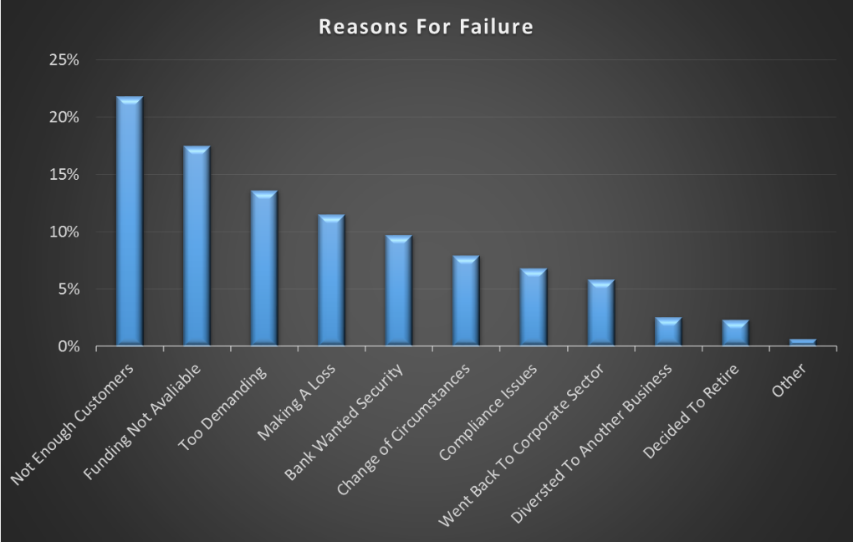 Finally, we can look at survival rates by state. SME and micro businesses in the ACT and QLD are most likely to fail, whilst businesses in Tasmania and South Australia are most likely to survive.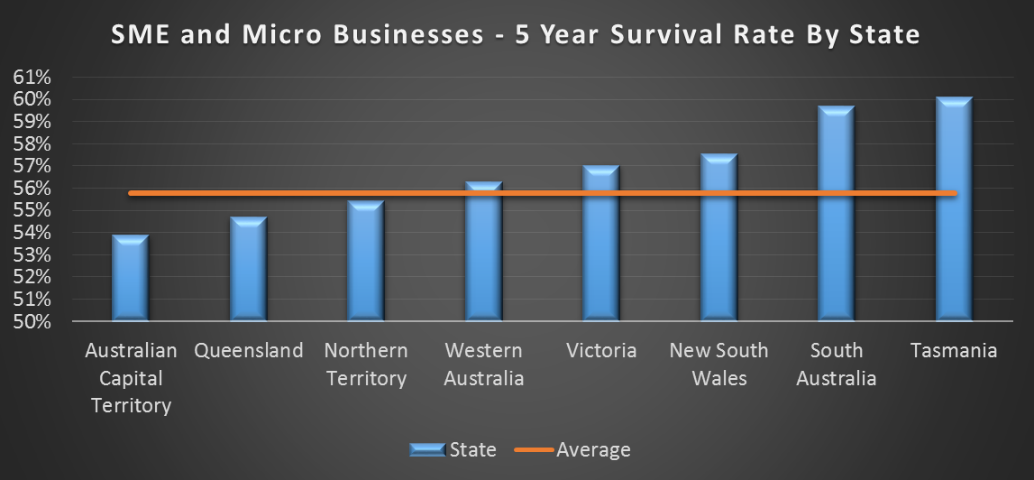 Thus, an ACT business in public administration and safety is the worst bet, whilst healthcare in Tasmania would be the best bet.