The latest and updated edition of our flagship report "The Property Imperative" is now available with data to end February 2017. This eighth edition updates the current state of the market by looking at the activities of different household groups using our recent primary research, and other available data. It features recent work from the DFA Blog and also contains new original research.
In this edition, we look at mortgage stress and defaults across both owner occupied and investment loans, housing affordability and the updated impact of "The Bank of Mum and Dad" on first time buyers.
We also examine the latest dynamics in the property investment sector including a review of portfolio investors, and discuss recent leading indicators which may suggest a future downturn.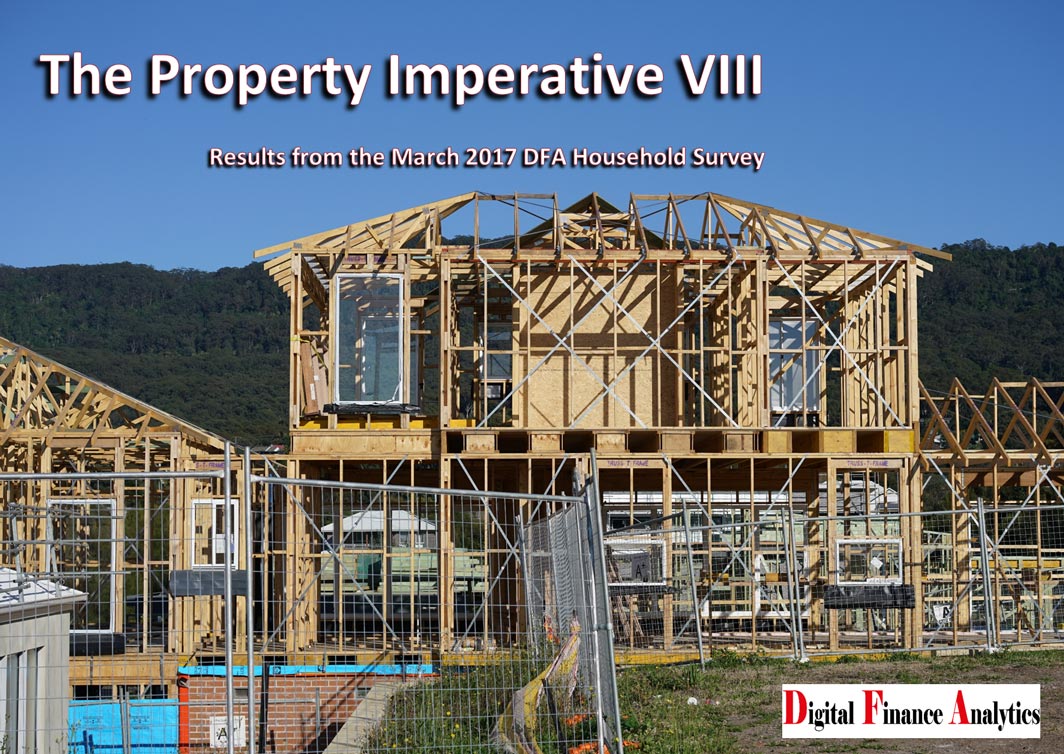 The overall level of household debt continues to rise and investment loans are back in favour at the moment, though this may change. Here is the table of contents.
1       Introduction. 
2       The Property Imperative – Winners and Losers. 
2.1         An Overview of the Australian Residential Property Market.
2.2         Home Price Trends. 
2.3         The Lending Environment. 
2.4         Bank Portfolio Analysis. 
2.5         Broker Shares And Commissions. 
2.6         Market Aggregate Demand.
3       Segmentation Analysis. 
3.1         Want-to-Buys. 
3.2         First Timers.
3.3         Refinancers.
3.4         Holders. 
3.5         Up-Traders.
3.6         Down-Traders. 
3.7         Solo Investors. 
3.8         Portfolio Investors.
3.9         Super Investment Property. 
4       Mortgage Stress and Default.
4.1         State And Regional Analysis. 
4.2         Stress By Household Profile. 
4.3         Stress By Property Segments.
4.4         Stress By Household Segments. 
4.5         Post Code Level Analysis.
4.6         Top 100 Post Codes And Geo-mapping. 
5       Interest Rate Sensitivity. 
5.1         Owner Occupied Borrowers. 
5.1.1          Sensitivity by Loan Value. 
5.2         Cumulative Sensitivity. 
5.2.1          Owner Occupied Borrowers. 
5.2.2          Investment Loan Borrowers. 
5.2.3          Owner Occupied AND Investment Loan Borrowers. 
6       Housing Affordability And Hot Air.
Request the free report [61 pages] using the form below. You should get confirmation your message was sent immediately and you will receive an email with the report attached after a short delay.
Note this will NOT automatically send you our ongoing research updates, for that register here.