Continuing our series on superannuation, today we look at Self Managed Super Funds (SMSFs). Growth in SMSFs is probably the most significant event in the superannuation industry, leading not unsurprisingly for calls for greater regulation or a clamp-down from many industry players. We will be referring to the recently published 2011-12 SMSF data from the ATO, together with our own survey analysis.
As we reported in our first post on super, the SMSF sector is growing strongly. 37% of asset growth went to SMSFs, well ahead of Industry or Retail funds.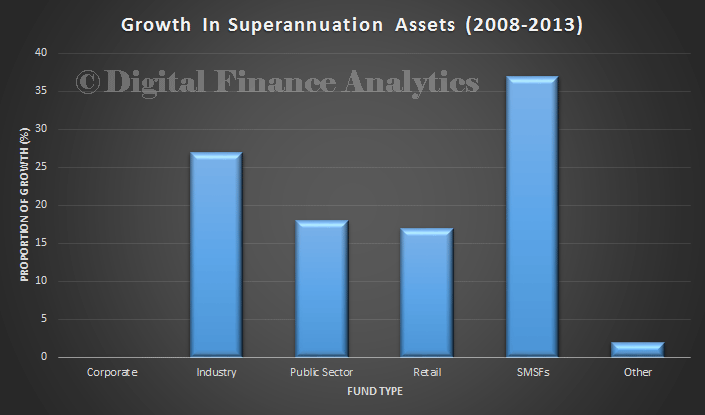 The number of funds, members and assets have all grown significantly: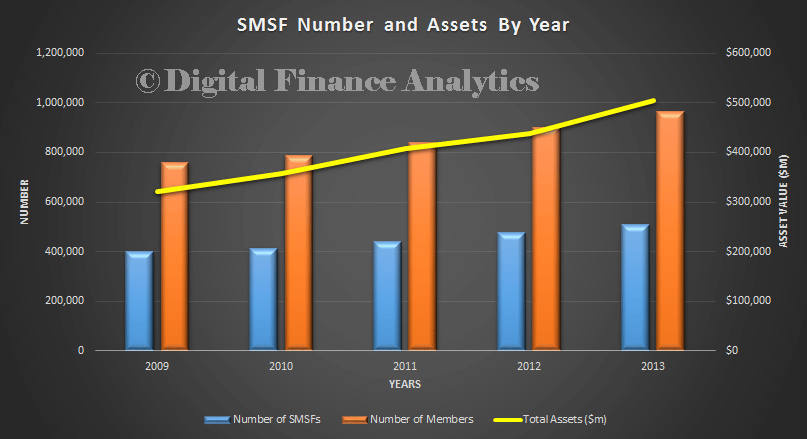 SMSFs have longevity, with 46% of funds more than 10 years old, and a median age of fund is 9 years, both according to the ATO report. 90% of funds set-up in the last 10 years still exist.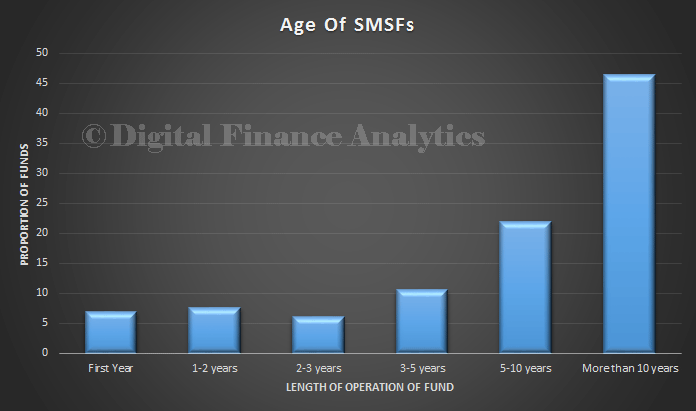 SMSFs tend to be operated by individual trustees (90%), and are most funds have trustees who are older. The age of the average member is 56.5 years old.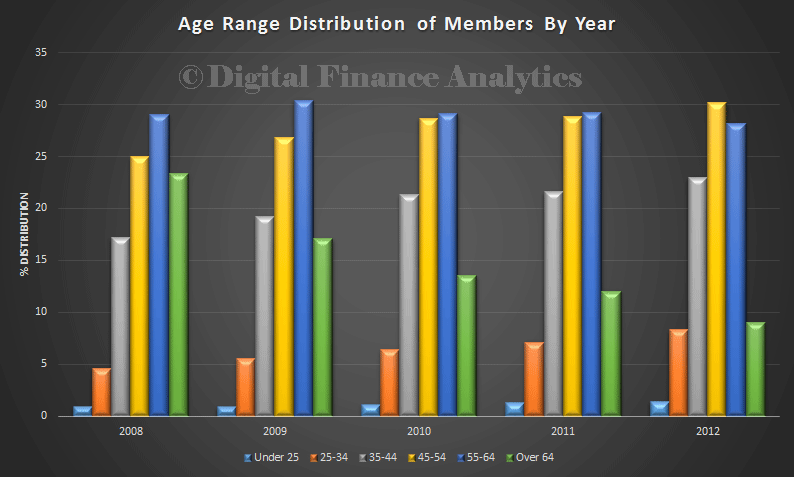 The average income for those with a SMSF is considerably higher than those who do not operate a SMSF.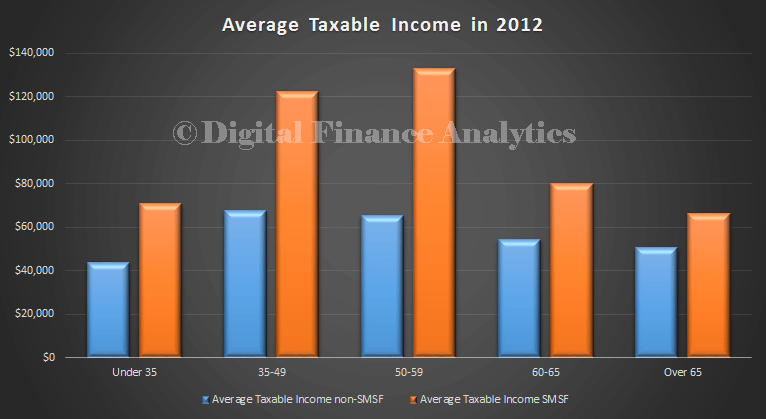 The average size of SMSFs varies, with the highest representation between $200k and $1m, but also there are a fair number above $2m.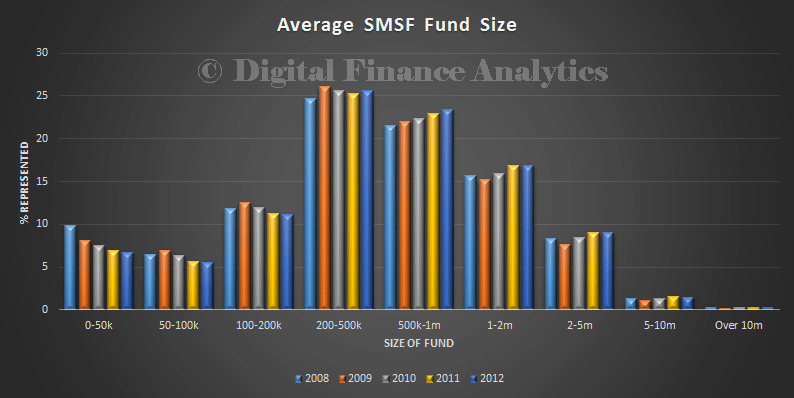 Looking at asset allocation, we find that cash and shares are leading classes, followed by non-residential real estate (possibly business premises), unlisted trusts, and residential real estate. I already discussed SMSFs investing in residential real estate here.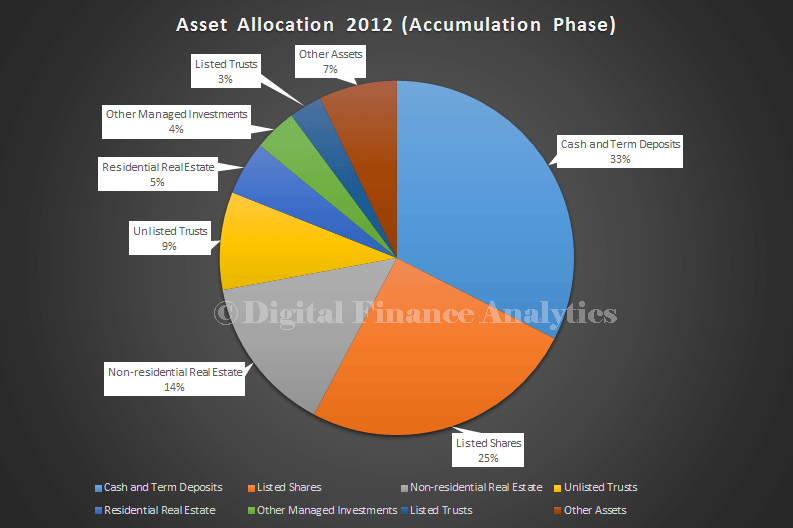 According to the ATO data, SMSFs have not performed that well. They calculate returns on assets by looking at net earnings in the year as a percentage of assets. This appears to be a function of investment returns, not fees, as the average audit fee was $566, and only 2% of funds paid more than $2,000. Note data is only available to 2012, as the 2013 returns are not in yet. Generally larger funds fared better than small ones.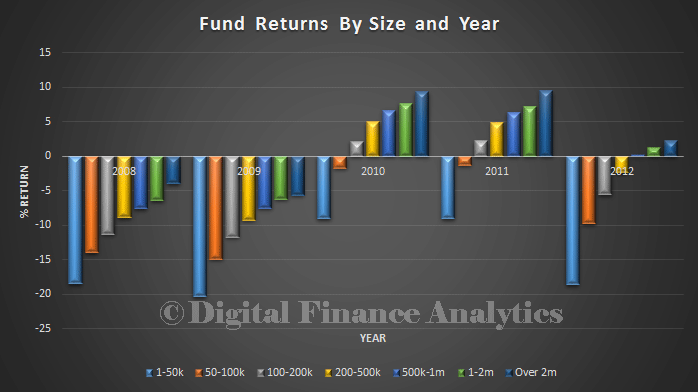 Turning to the DFA household survey, we asked why those with a SMSF had chosen to establish one. Multiple answers were allowed. The top answer was to gain more control (26%), then to reduce fees, improve returns and to provide greater flexibility.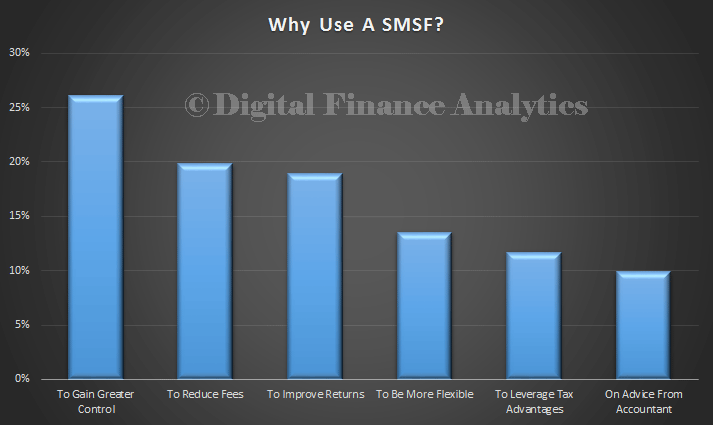 Finally, we also asked about levels of confidence in the investment decisions trustees made. Time required to manage the fund is a clear issue, 28% however are comfortable making their investment decisions, whilst 40% are concerned about whether they have the expertise required.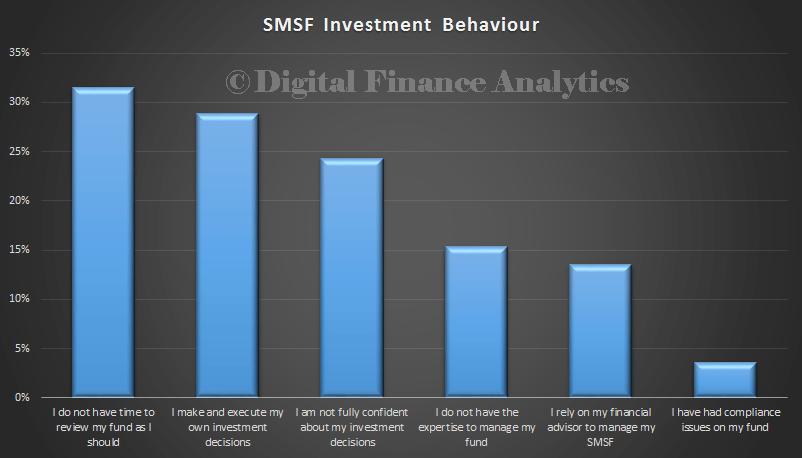 So putting all this together, it is clear the SMSFs are attracting new funds, especially from older more wealthy households. It is prompted by an expectation of greater control, and some hope of better performance, although the returns on assets are not that impressive as an average. That said, some do much better than others. For many though, the promise is not fulfilled. Whilst many trustees enjoy the investment challenge, others find the management of the fund difficult, and may turn to advisors for assistance. Some also funds have compliance issues, which is not surprising, given the quite complex supervisory framework which is in place.
Overall then, whilst a SMSF may perform well, and the fees may be lower, there is also a significant risk of poor performance. This leads me to the conclusion that if the superannuation industry were to really focus on being more open and transparent and focus on better engagement with the end investor, it is likely they would counter the flows to SMSFs as it is clear that the main reason for opening a SMSF is to gain greater control and transparency of superannuation assets.