Now we get to the pointy end of our mortgage stress and default analysis. Today we list the top 20 post codes across Australia where the highest number of households currently in mortgage stress reside. We also reveal our estimate for the number of defaults which we expect to occur in the coming months.
It is worth saying that the percentage of households stressed or at risk of default, in a particular post code, varies considerably, but we have chosen to look at the actual number of households this represents. This is because there are a number of post codes where the percentage is very high, but off a very low number of householders. Statistically speaking such low numbers would make us less certain of the accuracy of the estimates. But by choosing to focus on the absolute number of households involved, the estimates are more firmly grounded. In any case the numbers involved, if larger, makes a material difference to the economy, and the banking system.
So, then, here is the list. The post code with the highest number of households in mortgage stress in December 2016 is Harristown – 4350 – in Queensland. It is about 109 kms from Brisbane. This area covers Toowoomba, Harristown, Glenvale and Rockville etc and a population of close to 60,000. Many of the households here are younger. Incomes are lower than the QLD average. More than 4,500 households there are in difficulty and more than 170 households in the district risk mortgage default.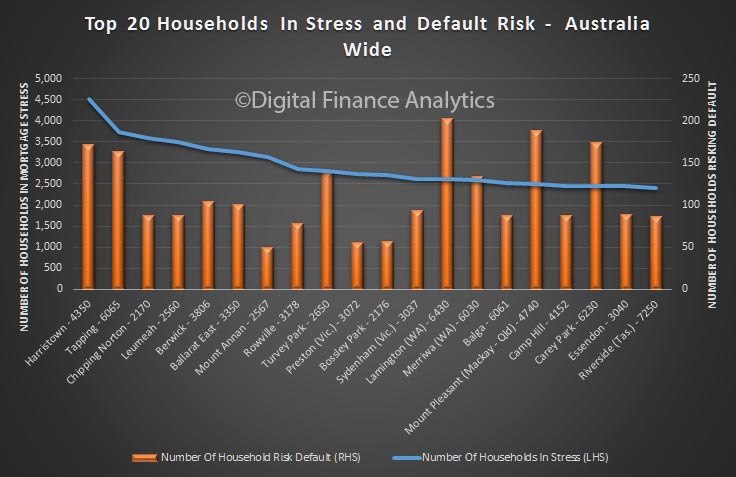 Within the top 20 nationally, the post code with the highest level of default risk is Lamington, WA, a suburb of South East & Central. It is about 549 kms from Perth.  The region includes Kalgoorlie, Lamington and Williamstown, etc. Many of these households are in the younger aged segments.  Incomes are higher than the WA average. Here more than 2,600 households are in mortgage stress, and more than 200 are likely to default.
The distribution of stressed households in also interesting. Within the top 20, Western Australia has the largest number of households (26.4%), just ahead of Victoria (26.38%), but off a smaller population base. Shows the pressure on households in the west.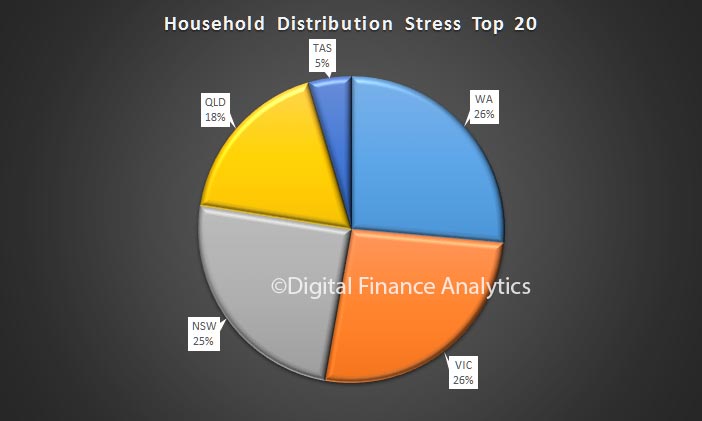 Next time we will look in more detail at some the state levels data.