On 9 June, Fannie Mae announced that it would increase its debt-to-income (DTI) ceiling for mortgage borrowers to 50% from 45%, effective on 29 July. The increase is credit positive for US state housing finance agencies (HFAs) because it will make mortgage loans more attainable for first-time homebuyers, thereby supporting HFA loan originations, which have been driving HFAs' profitability margin growth.
HFAs are charged with providing and increasing the supply of affordable housing in their respective states, specifically for first-time homebuyers. The DTI ratio is often the barrier to home ownership for first-time borrowers, so increasing the DTI ratio ceiling will increase mortgage approvals, thereby increasing the pool of borrowers who may opt for HFA loans.
Over the past five years, HFAs have more than tripled their single-family loan originations to $20.6 billion in 2016 from $6.5 billion in 2012. This has been one of the primary drivers of HFA profit margin growth, which reached an all-time high of 17% in fiscal 2015 (see exhibit).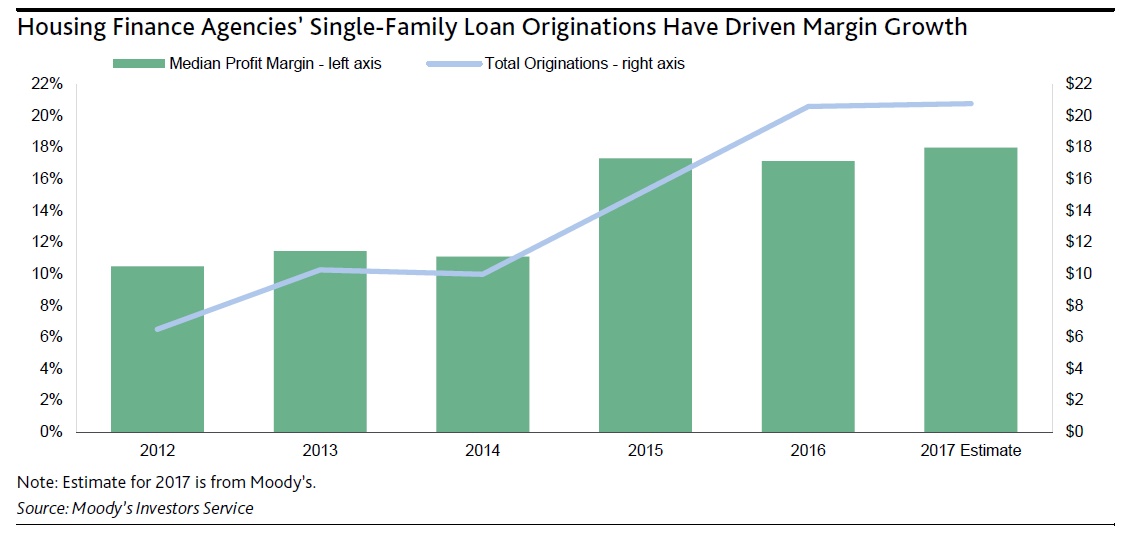 One of the challenges that HFAs face is a shrinking supply of single-family affordable housing inventory, which hinders first-time homebuyers and hampers HFA loan originations. The increase in the DTI ratio limits will help offset these challenges by expanding the pool of borrowers eligible for mortgages as well as allowing some borrowers to buy somewhat more expensive homes. Additionally, we expect HFAs to continue to maintain their high level of originations, which will support their strong margins.
Although Fannie Mae's increase in the DTI ratio will ease financial standards for potential first-time homebuyers by allowing applicants to carry additional debt, the HFAs will not bear the credit risk of these lower credit quality borrowers. Loans approved by Fannie Mae are either securitized or sold to Fannie Mae and loan payments are guaranteed by Fannie Mae regardless of the underlying performance of the mortgage.