The CBA led move last weekend to abolish foreign ATM fees, which was quickly followed by the other majors and Suncorp is a benefit to those using other banks ATMs to withdraw cash, and will be especially welcome in regional and rural areas, where travel times to own branch machines tends to be extended.
We showed that the volume of cash withdrawals is decreasing.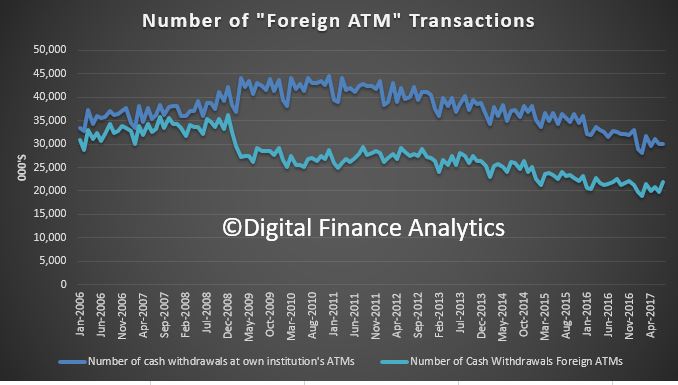 ATMs are now a legacy banking artifact, to be managed not for strategic advantage (replacing more expensive branches) but to reduce costs, as it is being replaced by electronic payments, pay waive and mobile devices.
The timing, I suggest, rather than being a deliberate attempt to distract from the BEAR proposals which were released by the Government a couple of days before; is more an outworking of recent discussions, centered on driving more cost savings from the ATM system.  The fact is ATMs are expensive animals to service, not so much from the technology point of view, but because the cash cartridges need to be physically replenished, which requires a small army of security guards, vans, and a supply of fresh notes. Remote ATMs are especially costly to service. Many are outsourced.
We examined the Point of Presence Data from APRA which includes counts of ATMs, listed by bank, and other provider.  This annual report is helpful when exploring distribution strategy, though the format will be changed this coming edition. We have data to 2016.
It shows that between 2014 and 2016 there was a 3.5% fall in the number of ATMs operating, with a total count of 14,293. We lost net, net around 500 machines in 2 years.
We then looked at the major banks, and Suncorp. Suncorp was responsible for a net 152 reduction, followed by Westpac 88 and ANZ 43. NAB grew their fleet by 45 and CBA by 7.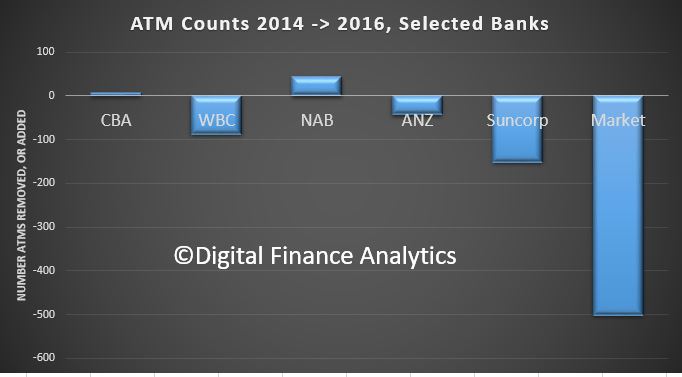 The state by state data shows that Queensland lost the most machines, down 165, then NSW 118, WA 98 and SA 76.  By bank, CBA, NAB and ANZ grew their footprint in NSW, while WBC and Suncorp cut machines significantly there.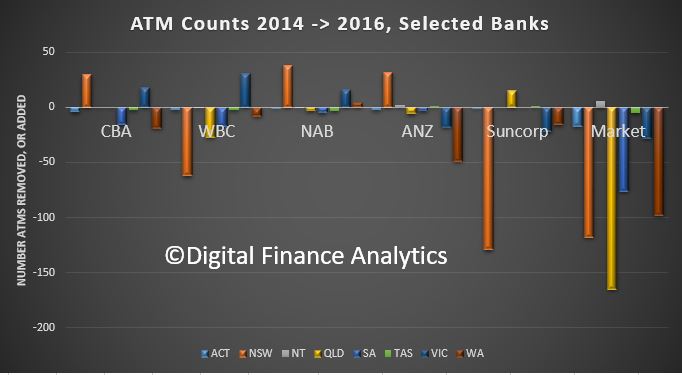 Now, the point of all of this is that given falling transaction volumes, we expect the number of ATMs to continue to fall.  The removal of "foreign" ATMS fees allows consumers to use any ATM within reach. As a result, banks can with some justification say that therefore multiple ATMs in a location are no longer required. As a result I expect a rush of closures, with the aim of not being the "last man standing" effectively holding the community service obligation in a given area.
So, in my view the ATM fee story is more about managing down legacy systems and costs than providing customer benefit.  Think of it as a utility service.  The Banks should consider formalising this in my view!
You could argue, provided you can still get cash, you may not care, but of course if there is a single machine in town, it is also a point of single failure, especially over a long weekend!
As always, there is more behind the PR than first appears….