Using the DFA Household Survey, we have been looking at the relative net capital value which can be created by different types of renovation. It is an interesting question, given the momentum in the market, and low rates of funds which are available for renovation (either as a draw-down from the mortgage, or a separate loan).
So we looked at all households in 2014 who had renovation, and estimated the uplift in the property capital value, whilst isolating the capital appreciation in the year thanks to general house price rises, and the costs of the conversions.
The data shows the national average results, although there are some quite big variations by state, location and customer segment. However the largest leverage is found on the more expensive properties.
We display the results by renovation type as a percentage lift in market value.  We conclude that substantial work, like a new storey, kitchen or en-suite bedroom and bathroom will add the most incremental value, on average. Redecoration, a new drive, or landscaping adds less value.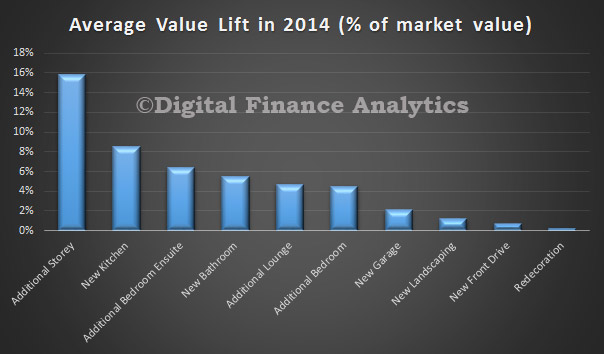 One item, was air conditioning, which had variable results, depending on the type of installation, and other factors. It was the least reliable in terms of potential capital value appreciation.