In a new report NAB explores the spending behaviours of their customers. At the top level, the data shows that whist average growth in spending was 3.1%, ACT let with 4.8% whilst in WA spending went backwards in the 4Q16.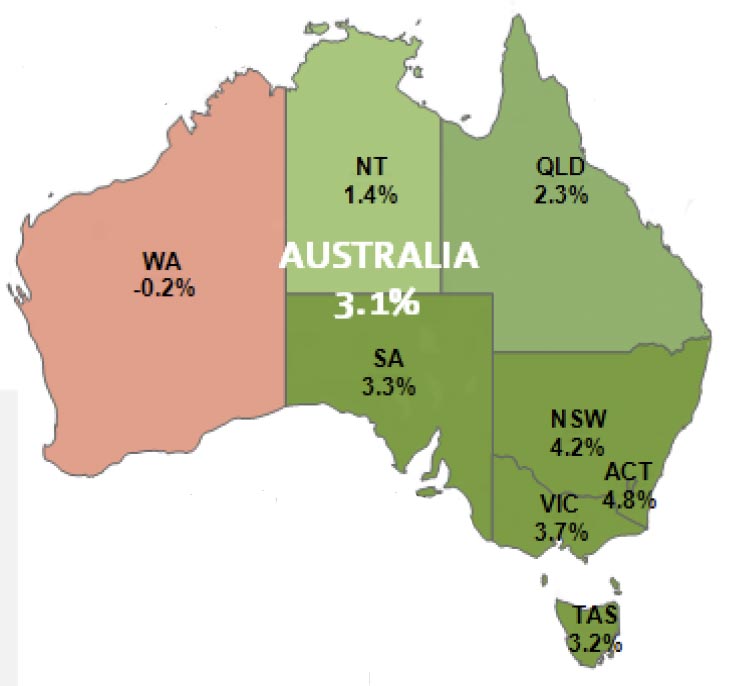 Customer spending in Australia – based on NAB's transaction data (including BPAY) – grew 3.1% y/y in Q4 2016,with average monthly spending during the quarter of $2,117 in metropolitan areas and $1,949 in regions.

Spending growth in Regional areas (3.5%) outpaced Greater Metropolitan or "City" areas (2.9%).

By capital city area (based on ABS definitions), spending growth was fastest in Hobart (4.1%), Sydney (3.9%)and Melbourne (3.7%) and slowest in Perth (-0.4%) and Brisbane (1.7%).

In regional areas, it was fastest inNSW (4.7%) and VIC (3.7%) and slowest in NT (-1.4%) and WA (0.7%).

Spending was dominated by the Eastern states – with NSW, VIC and QLD accounting for around 80% of total spending. Sydney, Melbourne and Brisbane accounted for over half (50.1%) of total NAB customer spending.

The fastest growing metro areas in Australia were Hunters Hill NSW (13.2%), Woollahra NSW (9.9%) andMosman Park WA (9.5%). The fastest growing regions were in NSW – Walgett (19.7%), Upper Hunter Shire(16.1%) and Murray (14.4%).

Cities accounted for 64% of all spending and regions 36%. Cities accounted for the biggest share of spendingin all states, particularly Adelaide (78%), Perth (77%), and Melbourne (75%). Spending in Regional areasaccounted for a comparatively bigger share of total state spending in TAS (50%), QLD (55%) and NSW (40%).

By category, spending growth was fastest for Accommodation, Cafes, Pubs & Restaurants (13.5%).
By examining around 4 million daily transactions, they show where spending is growing fastest and in which industry groups. This will help to better inform consumer behaviour and activity. Given the size of NAB's customer base, they say this data provides a strong indication of national and regional trends.