We released the 2015 edition of our Small and Medium Business report today. Given the intense focus on SME's the banks claim to have, (and as an alternative to more mortgages to home buyers) we found that at the moment, many SME's are underwhelmed by the products and services they are getting from their banks. Many cannot get the help they need to grow. Yet many will not look for alternatives.
Whilst around 35% are either satisfied, or completely satisfied with their current banking arrangements, the majority are experiencing some level of dissatisfaction.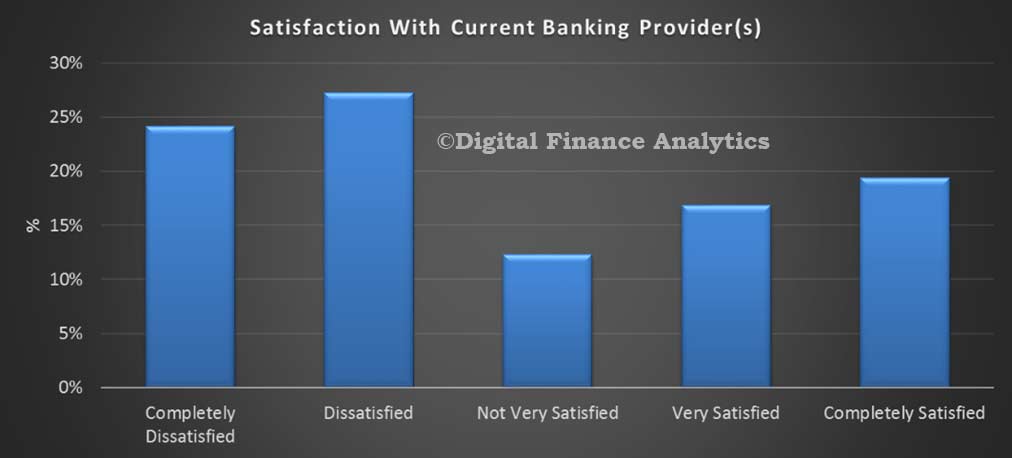 Delving into where the dissatisfaction stems from, we find that the largest element relates to compliance (23%), then price (22%), followed by product range. Poor service drives about 12% of dissatisfaction.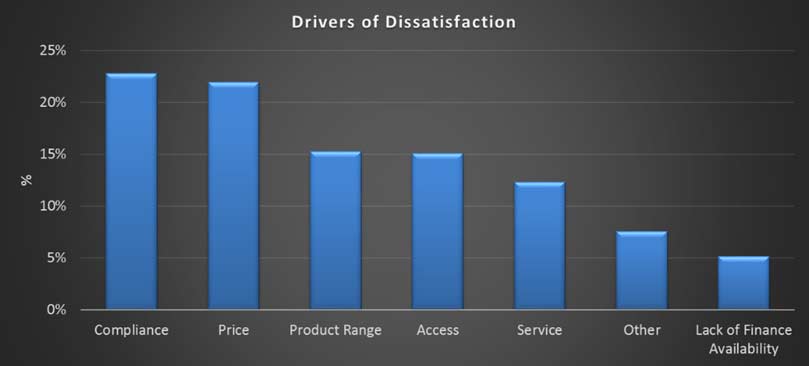 So, given their level of dissatisfaction, would they switch to another player? Looking at a firm's willingness to switch, around 25% of firms are unlikely to switch, either because they satisfied, or because they perceive no differentiation between players. This means that in theory 75% of business are open to churning, for a better proposition.
However, the average time with a bank of more than 6 years, and the distribution shows that far fewer will actually follow through and make a switch. Indeed, it appears that larger organisations are rusted on to their existing providers, whereas smaller firms are more likely to move, if there is reason to do so. Whilst there is a small rise in the number of businesses who have switched recently, overall 60% have never switched.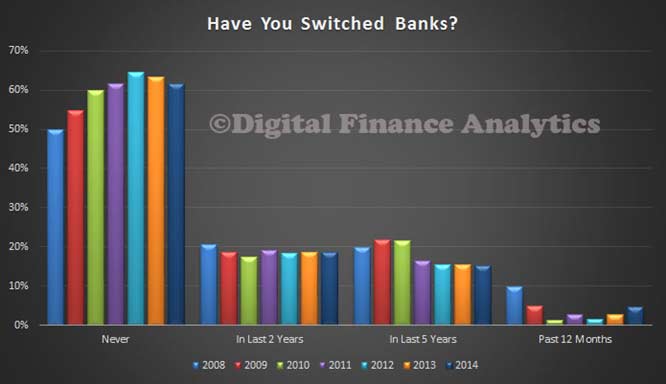 The final perspective is to examine Net Promoter Scores (NPS) which measures the loyalty that exists between a provider and a consumer of services. Comparing those who are promotors with those who are detractors, the average NPS score spread shows that the majority of firms are neutral or negative. There is a secondary peak in the positive region, but even here, there are still some detractors. So this confirms again that firms are not strongly attached to their current provider.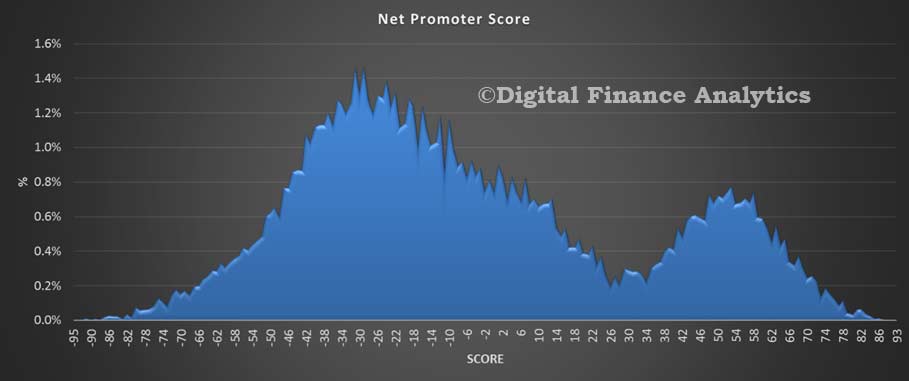 So, in summary, firms are not particularly satisfied with the products and services offered by players in the Australian market.
Many would in theory be prepared to switch, and yet in practice, do not because either there is no perceived benefit in so doing, or because they are rusted on to long-term relationships, or because the whole switching thing to just too complex and difficult. It would be a distraction from the main game, which is to run their own enterprise.
So it is clear that there is a significant opportunity available to players who construct compelling offers to the SME sector, but only if the promise can be delivered in practice. One really important "selling" message is the extent to which banks understand the needs and aspirations of small business owners. This registered more strongly than the general brand association, or reputational elements in the brand drivers.
You can get a free copy of the latest DFA report here.