Digital Finance Analytics Core Market Model is now being used by a growing number of financial services companies and agencies who want to understand the true dynamics of the current mortgage market and the broader footprint of household finances across Australia.
The DFA Approach
By combining our household survey data, with private data from industry participants as well as public data from government agencies we have created a unique statistically optimised 52,000 household x 140 field resource which portrays the current status of households and their financial footprint. Because new data is added to each week, it is the most current information available. We also estimate the extent of future mortgage defaults, thanks to the data on household mortgage stress.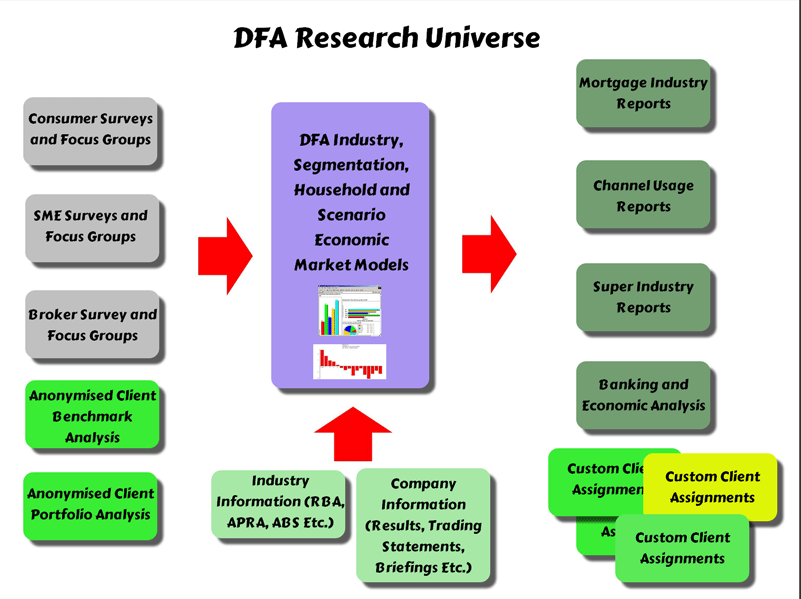 Posts on the DFA blog uses data from this resource.  Momentum in our business has picked up significantly as concerns about the state of household finances grow and the thirst for knoweldge grows. We plug some of the critical gaps in the currently available public data which is in our view both limited and myopic.
A Soft Sell
The complete data-set is available purchase, either as a one-off transaction, or by way of an annual subscription which includes the full current data plus eleven subsequent monthly updates.
Other clients prefer to request custom queries which we execute on a time and materials basis.
In this video you can see an example of the core model at work. We show how data can be manipulated to get a granular (post code and segment) understanding of the state of play.  This is important when the situation is so variable across the states, and across different household groups.
We Hold Granular Data
Household Demographics (including age, education, structure, occupation and income, location, etc.)
Household Property Footprint (including residential status, type of property, current value of property, whether holding investment property, purchase intentions, etc.)
Household Finances (including outstanding mortgages and other loans, credit cards, transaction turnover, deposits, superannuation and SMSF, and other household spending)
Household Risk Assessment (including loan-to-value, debt servicing ratio, loan-to-income ratio, level of mortgage stress, probability of default, etc.)
Household Channel Preferences (including preferred channel, time on line, use of financial adviser, use of mortgage broker, etc.)
Segmentation (derived from our algorithms; for household, property, digital and others)
Request More Information
You can get more information about our services by completing the form below, where you can also request access to our Lexicon which describes in detail the data available.
You should get confirmation your message was sent immediately and you will receive an email with the information attached after a short delay.
Note this will NOT automatically send you our ongoing research updates, for that register here.