The ABS released the National Accounts to September 2017 today.  The expectation was a 0.7% lift in GDP, but it came in 0.6%. This gives an annual read of 2.3%, well short of the hoped for 3%+. Seasonally adjusted,  growth was 2.8%. Business investment apart, this is a weak and concerning result.  The terms of trade fell.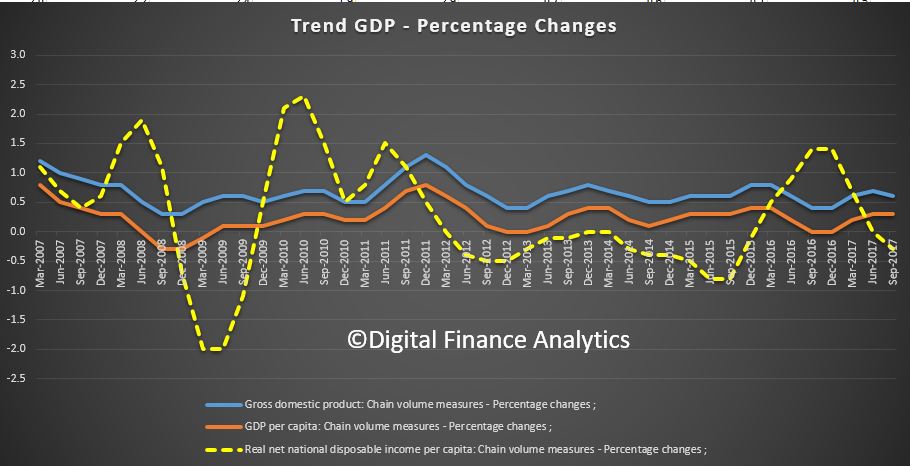 The GDP per capita and net disposable income per capita both fell, which highlights the basic problem the economy faces.  The dollar fell on the news.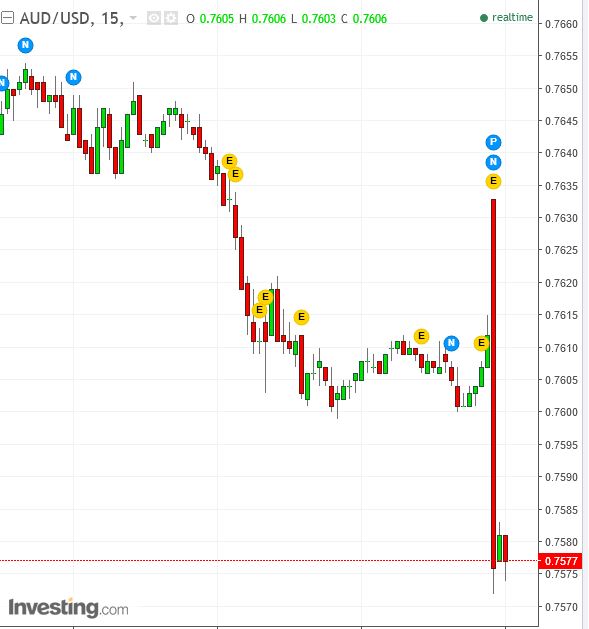 Actually, we need to reboot our thinking on economic progress, as a quest for continual growth on the current settings will lead us into the gutter. Time for some fresh ideas. But then it seems that the alignment between potential growth, and lifts in tax take which follow makes this difficult.
The Australian economy grew 0.6 per cent in seasonally adjusted chain volume terms in the September quarter 2017, according to figures released by the Australian Bureau of Statistics (ABS) today.

Chief Economist for the ABS, Bruce Hockman, said: "Increased activity in both private business investment and public infrastructure underpinned broad growth across the industries."

Compensation of employees (COE) increased in all states and territories, resulting in a national quarterly growth of 1.2 per cent and growth of 3.0 per cent since the September quarter 2016. Despite higher household income, household consumption was weak at 0.1 per cent, in line with the retail trade estimates. This weak household spending combined with growth in household income resulted in an increase in the household saving ratio for the first time in five quarters.

Mr Hockman added: "The increase in wages was consistent with the stronger employment and hours worked data that has been reported in the labour force survey."

Net exports contribution to growth was flat this quarter despite higher Mining production and exports of coal and iron ore. The terms of trade fell 0.4 per cent on the back of lower export prices.

17 out of 20 industries recorded positive growth this quarter driven by Professional, Scientific and Technical Services, Health Care and Social Assistance and Manufacturing. A longer-term analysis of the changing drivers of the economy, from an industry perspective, is provided in a feature article included in this quarter's publication.