According to the Domain House Price Report for the March Quarter, Melbourne and Hobart are the only capital cities where house prices are still rising. Sydney's house prices fell, recording a quarter-on-quarter drop of 1.5 per cent, bringing the median down under the $1 million mark to $995,804. This 1.5 per cent drop when coupled with the 3.2 per cent fall in the December quarter, means prices have now dropped 4.7 per cent over six months. It's an even bigger drop than Sydney experienced over 2008 during the global financial crisis, when the median dropped 4.6 per cent over the full year.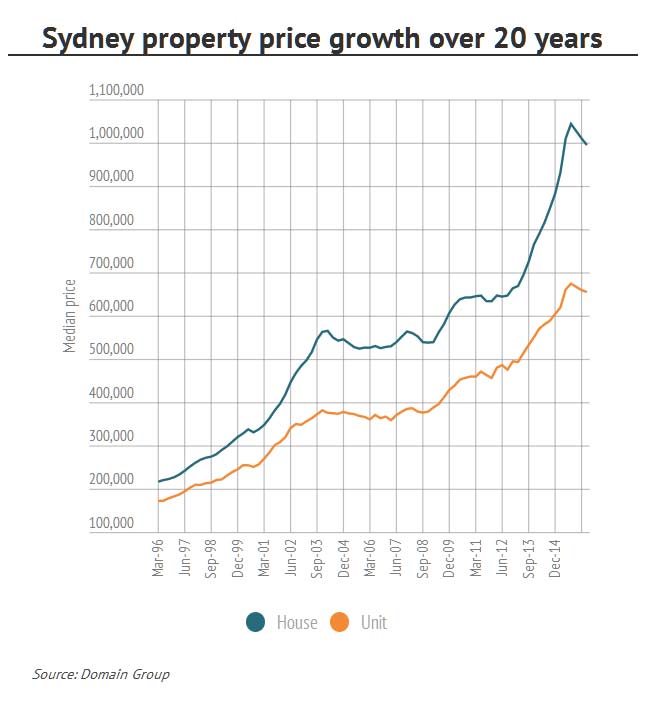 Canberra house prices fell by 1.4 per cent after five consecutive quarters of growth.
In Perth, house prices dropped by 1.3 per cent to $579,914 over the quarter, while Adelaide recorded a 0.5 per cent drop to $491,422, and prices in Brisbane fell by 0.05 per cent to $512,809.
The report showed that house prices in Hobart surged during the March quarter, rising by 4.3 per cent to $360,212, while Melbourne house prices rose by 1.2 per cent to $726,962.
Darwin house prices dropped sharply by 4.9 per cent to $610,305.
"Weakening economic activity and growing uncertainty is impacting fragile consumer and investment sentiment, leading to falling house and unit prices in most capital cities," Domain chief economist Andrew Wilson said.
"The outlook for house prices remains subdued, with capital city growth likely to continue to track at best just above the inflation rate for the remainder of 2016.
"The prospect of weaker house price growth, however, will be welcomed by prospective first home buyers still struggling to get into the market."
The boom's over, but no crash is imminent. As Dr Wilson points out, the most recent drop in Sydney is less than the one in December. So there could be an even smaller fall in June. It's not as if there's been any major trigger to substantiate a more significant correction, like a large rise in interest rates or a jump in unemployment.