We have published the February 2017 edition of the Digital Finance Analytics Household Finance Confidence index (FCI) today, which shows a further small rise from the January 102.7 to 103.4. This is above the long term neutral setting, and after a significant dip in the past couple of years, the FCI is maintaining positive momentum.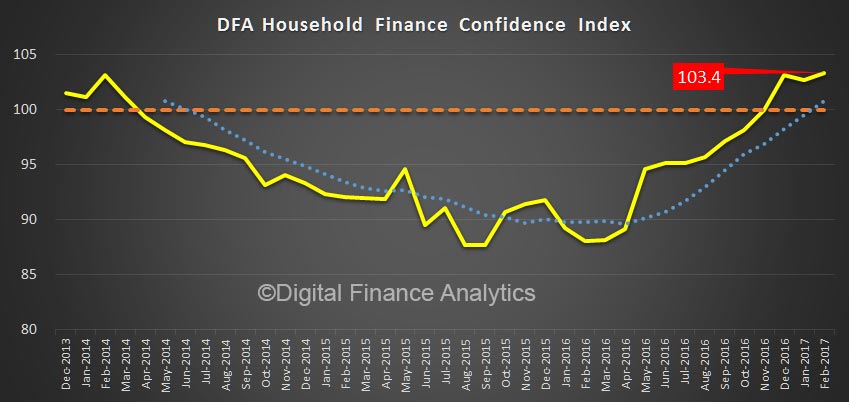 However, the positive boost in predominately centered on momentum in the property market, with both owner occupied and investment property holders in positive territory, whilst those excluded from the property market, including renters and those living with family or friend get none of the upside, so their financial security is degrading further. This highlights the risks if the property market momentum were to reverse, and the bind that regulators face at the moment – do you keep the current settings and allow the market to continue to run, or tighten and risk reversing household sentiment and thus spending?

The state by state picture shows how uneven the confidence is, with households in the eastern states significantly more positive that in WA or SA.  WA grinds down, thanks to the pressure on the economy there, falling home prices and flat to falling incomes. Will the election result today make a difference?

Finally, here is the scorecard, which shows that real income in under pressure (up 1%), costs of living are rising (up 1%), concerns about debt levels are up a little (thanks to recent rate increases) but net worth is being bolstered by strong home price growth and rising stock markets.  The property sector is firmly linked to household confidence, and vice-versa.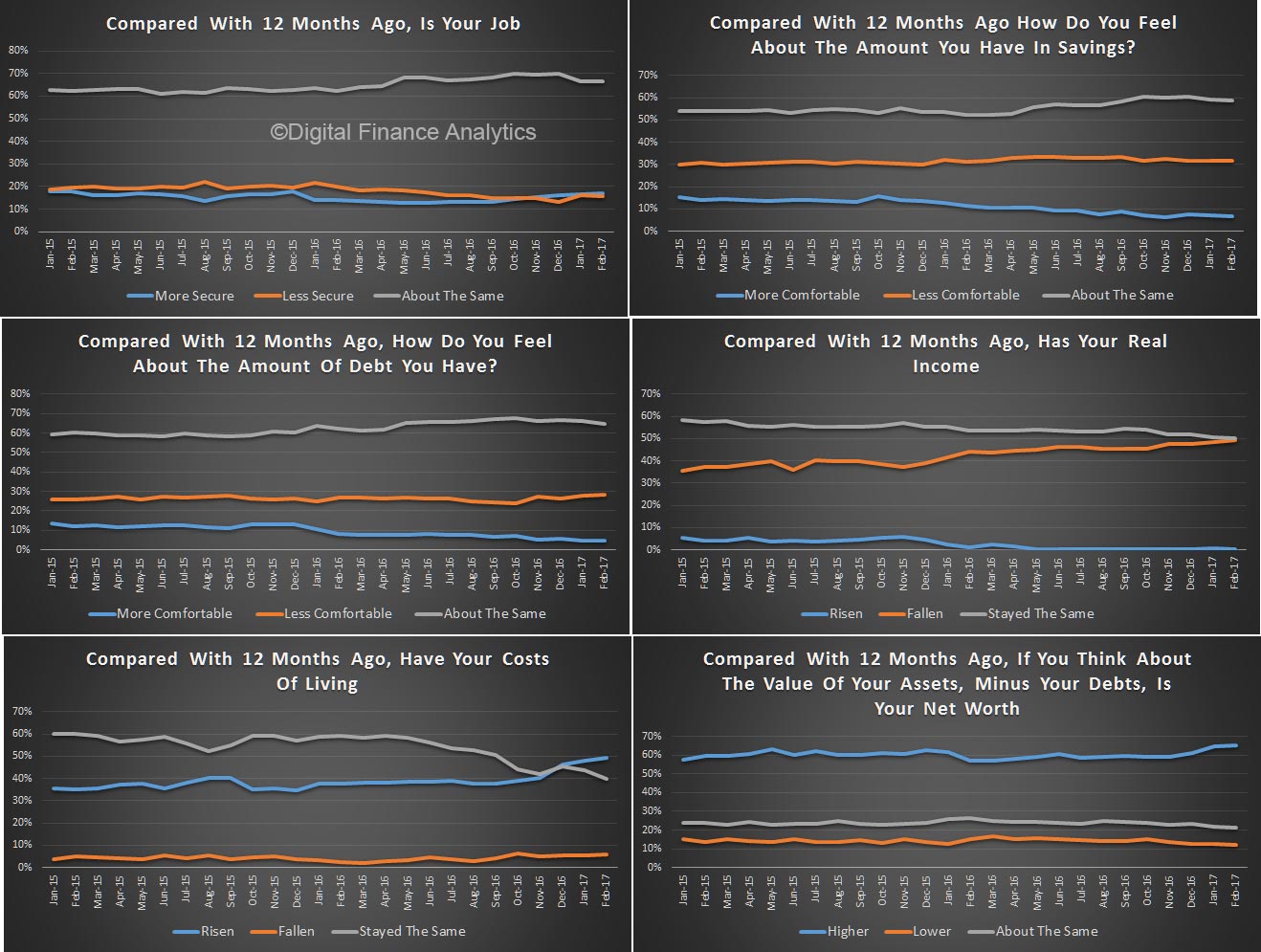 By way of background, these results are derived from our household surveys, averaged across Australia. We have 26,000 households in our sample at any one time. We include detailed questions covering various aspects of a household's financial footprint. The index measures how households are feeling about their financial health. To calculate the index we ask questions which cover a number of different dimensions. We start by asking households how confident they are feeling about their job security, whether their real income has risen or fallen in the past year, their view on their costs of living over the same period, whether they have increased their loans and other outstanding debts including credit cards and whether they are saving more than last year. Finally we ask about their overall change in net worth over the past 12 months – by net worth we mean net assets less outstanding debts.