The HIA New Home Sales report – a monthly survey of the largest volume home builders in the five largest states – says for the three months to August compared with the same period last year, house sales in Victoria are 15.7 per cent higher and up by 9.2 per cent in South Australia. Over the same period, sales declined in Queensland (-7.3 per cent), WA (-15.4 per cent), NSW (-17.4 per cent) and Queensland (-37.9 per cent).
"New home sales increased by 9.1 per cent last month as a result of very strong results in Victoria and Western Australia, but over the year sales have continued to slow," stated HIA's Principal Economist, Tim Reardon.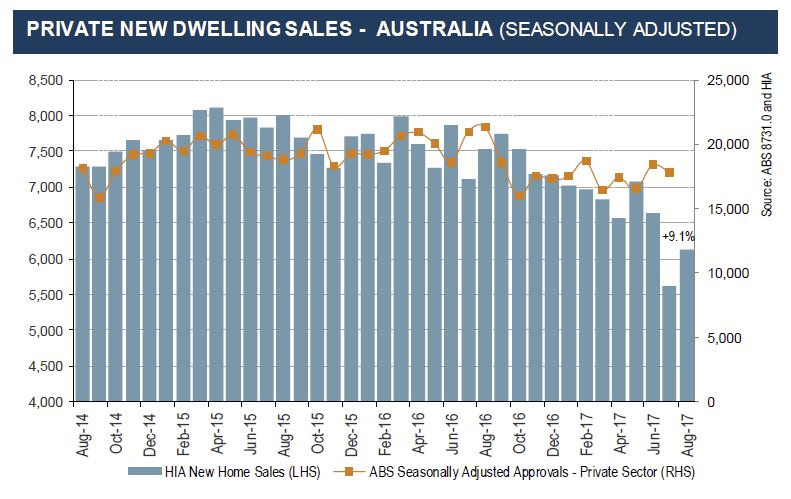 "The jump in sales in July confirms our forecast of a slowdown in building activity through until 2018/19.

The increase in sales in August offsets larger declines in sales in recent months, but it is not sufficient to reverse the decline in sales that is evident since early 2016," continued Mr Reardon.

"Results in July and August have been affected by government interventions in NSW and Victoria which have seen first home-buyers returning to the new home market.

"Victoria has seen record numbers of new building approvals and new home sales are continuing to drive even higher. Strong population growth and employment growth, fortified with enhanced first home buyer incentives, is prolonging the boom in building activity."

"The trend in new home sales continues to provide a strong leading indicator of the trend in residential building approval figures from the ABS as can be seen in the chart below," concluded Mr Reardon.