The latest edition of the Disruption Index has just been released, and it is 41.57, up from 38.29 last quarter. This is good news for Fintechs in that the SME community is adopting digital faster than ever.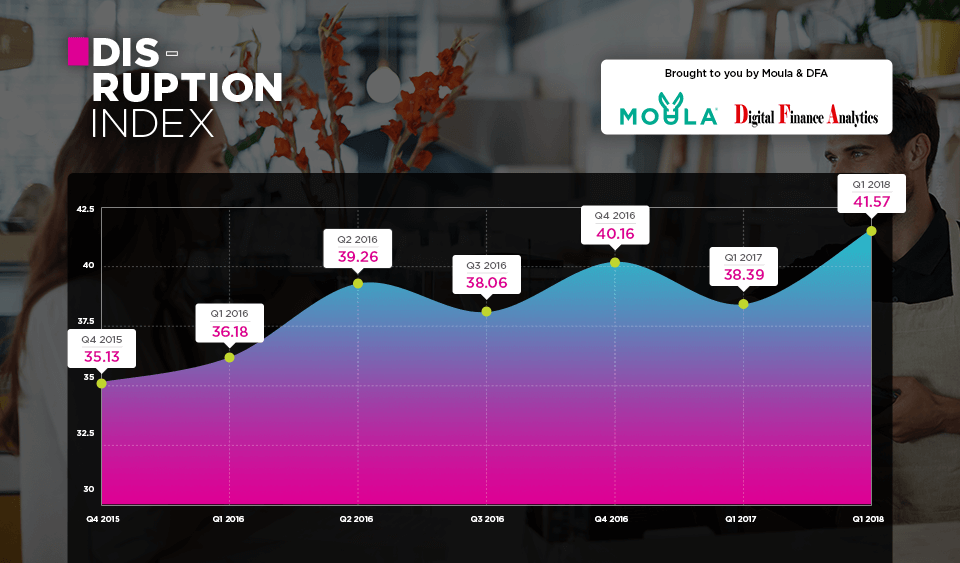 The Financial Services Disruption Index, which has been jointly developed by Moula, the lender to the small business sector; and research and consulting firm Digital Finance Analytics (DFA).
Combing data from both organisations, we are able to track the waves of disruption, initially in the small business lending sector, and more widely across financial services later.
The index tracks a number of dimensions. From the DFA Small business surveys (52,000 each year), we measure SME service expectations for unsecured lending, their awareness of non-traditional funding options, their use of smart devices, their willingness to share electronic data in return for credit, and overall business confidence of those who are borrowing relative to those who are not.
Moula data includes SME conversion data, the type of data SME's share, the average loan amount approved, application credit enquiries, and speed of application processing.
Here are some of the highlights:
Business Confidence
SME Business Confidence of those borrowing is on the up, reflecting stronger demand for credit, with the indicator jumping a healthy 15.8%, however, the amount of "red tape" which firms have to navigate is a considerable barrier to growth.
Knowledge of Non-bank Financial Providers
Awareness of new funding options continues to rise if slowly, creating a significant marketing opportunity for the new players, and a potentially larger slice of the pie.
Business Data
Greater willingness to share data and use of cloud-based services continue to rise. One-third of businesses have data held within the cloud, including accounting, customer management, invoicing, human resource, and tax management. We see variations across the segments in their use of these services. Of the businesses applying for funding, almost 90% now provide some form of electronic data via online loan application and are clearly comfortable in doing so (suggesting security concerns are less of a deterrent than the incentive of the speed of application and execution).
Average Loan Size
Average loan size continues to move upwards to register above $40k for the first time, indicating that better businesses are embracing alternative finance arrangements. More than likely, these businesses have traditional banking relationships, but either choose (or are forced to) look elsewhere for liquidity.