An extract from the latest edition of the DFA report, the Property Imperative, released last week.
The Australian Residential Property market is valued at over $5.2 trillion and includes houses, semi-detached dwellings, townhouses, terrace houses, flats, units and apartments. In the past 10 years the total value has more than doubled. It is one of the most significant elements driving the economy, and as a result it is influenced by state and federal policy makers, the Reserve Bank, Banking Competition and Regulation and other factors. Residential Property is therefore in the cross-hairs of many players who wish to influence the economic fiscal and social outcomes of Australia.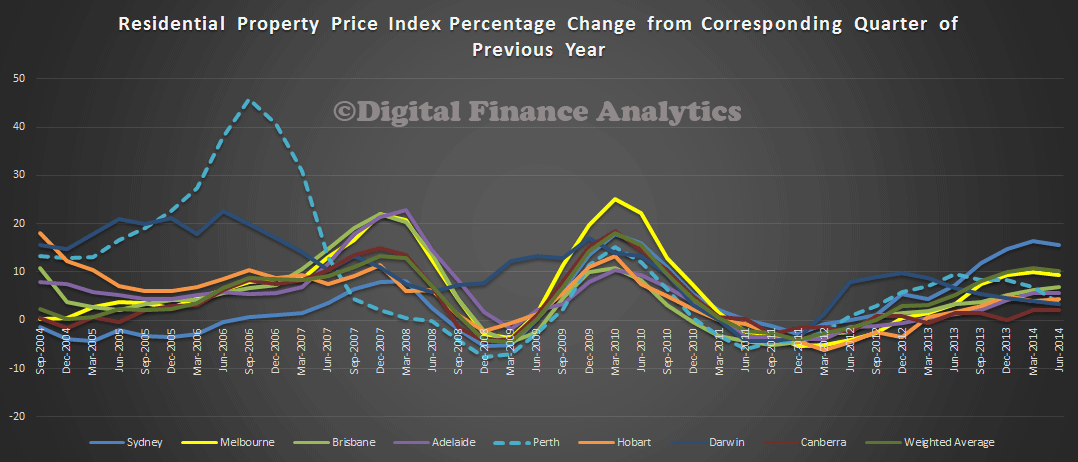 According to the Reserve Bank (RBA), as at July 2014, total ADI housing loans were a record $1.382 trillion , an increase of 8.5% in investor loans and 4.8% in owner occupied loans over the past year. There were more than 5.08 million housing loans outstanding with an average balance of about $237,000 . Approximately two-thirds of total loans were for owner-occupied housing, while one-third was for investment purposes. 43.2% of new loans issued were interest-only loans , this is a record.
After a significant credit fueled boom in 2002-2007, momentum slowed after 2007 as a result of the Global Financial Crisis (GFC). The RBA dropped rates directly after the immediate crisis, but then lifted them again to a peak of 4.5% in 2011 in response of a property rebound and the mining sector investment sector boom. In 2013 its benchmark rate was cut to an all-time low of 2.5% which has stimulated further property demand, as the resource sector transitions from an investment to exploit phase. Through 2014, rates have remained at 2.5%, and in the latest RBA minutes, they suggest a continuation for some time at this level .
The Australian Bureau of Statistics says property prices have risen in every capital city in the past year to June 2014. Annually, residential property prices rose in Sydney (+15.6%), Melbourne (+9.3%), Brisbane (+6.8%), Adelaide (+5.6%), Hobart (+4.3%), Perth (+3.6), Darwin (+3.4%), and Canberra (+2.2%) . The Residential Property Price Index (RPPI), a measure including houses and attached dwellings, for the weighted average of the eight capital cities rose 1.8% this quarter, for a total rise of 10.1% over the last year.