The latest employment data from the ABS does not look too bad on first blush, it beat expectations, especially if you go for the wobbly seasonally adjusted series. However the continued rise in part-time employment (up 3.6%) compared with full-time (up 0.1%) highlights the problem with low take home pay, and when added to the falling wage growth in real terms, it explains why household finances are taking a battering, and why mortgage stress is up again.  Also significant differences if you compare WA with NSW.
Trend employment increased by 19,900 persons to 12,071,300 persons in April 2017, according to figures released by the Australian Bureau of Statistics (ABS) today. Total employment growth over the year was 1.3 per cent, which remains below the average growth rate over the past 20 years of 1.8 per cent.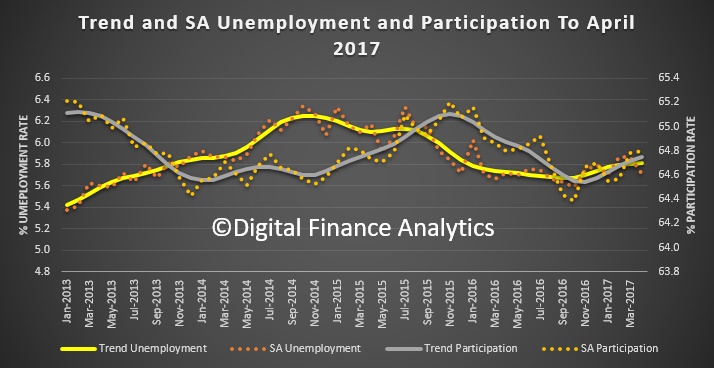 Over the past year there was a larger increase in trend part-time employment (102,800) than full-time employment (49,300) – around two-thirds of the total increase in employment. This was considerably more pronounced in the trend hours worked, which grew by 3.6 per cent for the part-time employed, and 0.1 per cent for those employed full-time.

Australia's trend unemployment rate remained at 5.8 per cent for the fourth consecutive month.

"For almost 18 months, the trend unemployment rate has been relatively stable, at around 5.7 to 5.8 per cent" said Bruce Hockman, General Manager of the ABS Macroeconomic Statistics Division. "We haven't seen this stability since the May 2007 to October 2008 period, when it remained around 4.2 to 4.3 per cent."

The trend participation rate increased by less than 0.1 percentage points to 64.8 per cent.

Trend series smooth the more volatile seasonally adjusted estimates and provide the best measure of the underlying behaviour of the labour market.

The seasonally adjusted number of persons employed increased by 37,400 in April 2017. The seasonally adjusted unemployment rate decreased 0.2 percentage points to 5.7 per cent, and the seasonally adjusted labour force participation rate remained steady at 64.8 per cent.

The comparison between the numbers in WA and NSW (the last and first placed states from an economic perspective) tells an interesting story.
Unemployment has been falling in NSW, and has turned the corner in WA, after a steady climb. However the participation rate in WA is significantly higher and is rising, whilst it is lower and falling in NSW. This reflects a range of factors, including demographic distribution, industry mix and part time work options.  The falling rate in NSW should be regarded as a warning of trouble ahead when it comes to looking at household finances.