The seasonally adjusted Wage Price Index (WPI) rose 0.5 per cent in the September quarter 2017 and 2.0 per cent over the year, according to figures released today by the Australian Bureau of Statistics (ABS). This was below consensus expectation, and continues the slow grind in household income, for many falling below the costs of living.  Those in the public sector continue to do better than those in the private sector.
The WPI, seasonally adjusted, has recorded quarterly wages growth in the range of 0.4 to 0.6 per cent for the last 13 quarters (from the June quarter 2014).

ABS Chief Economist Bruce Hockman said: "Annual wages growth increased marginally to 2.0 per cent in the September quarter 2017. The higher wage growth in the September quarter was driven by enterprise agreement increases, end of financial year wage reviews and the Fair Work Commission's annual minimum wage review."

Seasonally adjusted, private sector wages rose 1.9 per cent and public sector wages grew 2.4 per cent through the year to the September quarter 2017.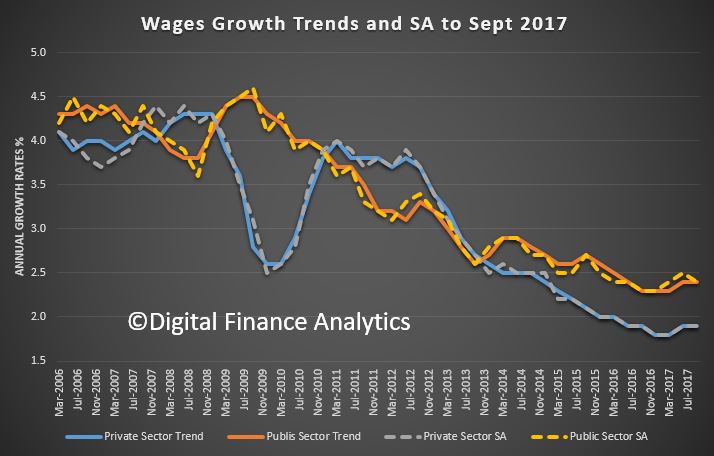 In original terms, through the year wage growth to the September quarter 2017 ranged from 1.2 per cent for the Mining industry to 2.7 per cent for Health care and social assistance and Arts and recreation services.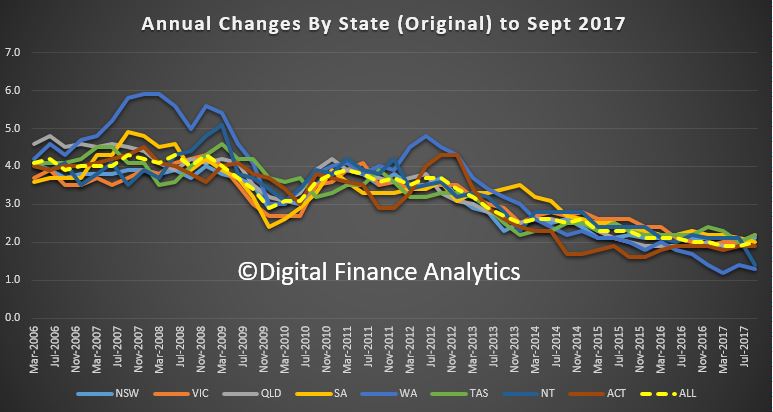 Western Australia recorded the lowest through the year wage growth of 1.3 per cent and Victoria, Queensland and Tasmania the highest of 2.2 per cent.